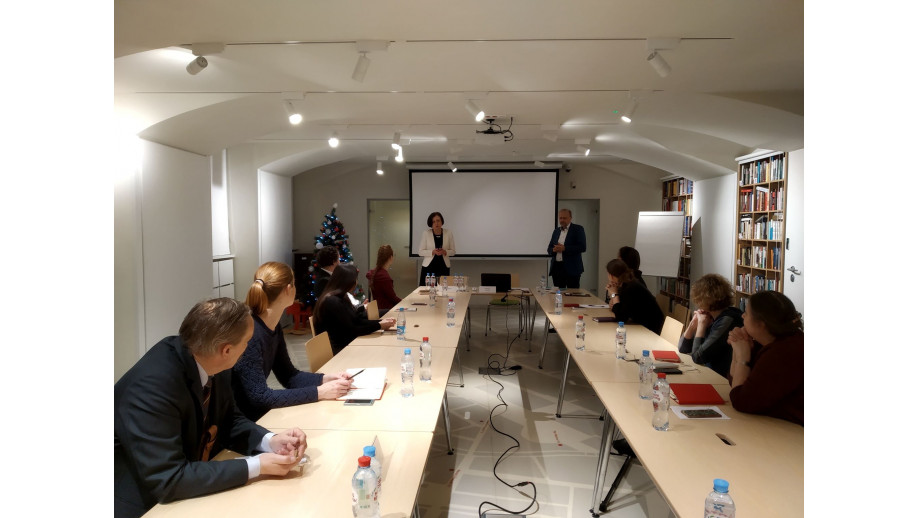 Second edition of the School of New Translators in St. Petersburg came to an end [relation and photos]
On 6-7 December, at the Polish Institute in St. Petersburg, a series of lectures and interviews with students of the art of translation took place within the framework of the Book Institute's project School of New Translators.
Thanks to the cooperation with the Director of the Polish Institute in St. Petersburg, Ewa Ziółkowska, technical staff of the Polish Institute, and the Polish scholar and translator Prof. Andrej Babanow, from October to December, sixteen participants took part in translation workshops, translating Polish literature into Russian, including fragments of Łukasz Orbitowski's Kult ("Cult") and Bronisław Prus' Lalka ("The Doll"). Moreover, the translators had the opportunity to listen to Wojciech Stanisławski's lectures on contemporary literary life and the book market in Poland, whereas the issues of comparative linguistics were presented to them by Prof. Agnieszka Karolczuk.
The culmination of the series of meetings was a lecture by Dariusz Jaworski, Director of the Book Institute, which took place on 6 December. The Director of the Institute presented the mission and objectives of the Book Institute and foreign programmes for translators to the participants of the School of New Translators. Afterwards, a Book Institute representative, Magdalena Brodacka, talked about the second stage of the workshop, which will take place at the end of February 2020 in Cracow. A day after, individual conversations with each workshop participant took place. On their basis - and also on the basis of Professor Babanow's assessment of the subject matter of translations - four translators will be selected, who will be able to further develop their translation skills in Cracow.
Below is a photo gallery taken from the meetings in the Polish Institute in St. Petersburg.
Gallery