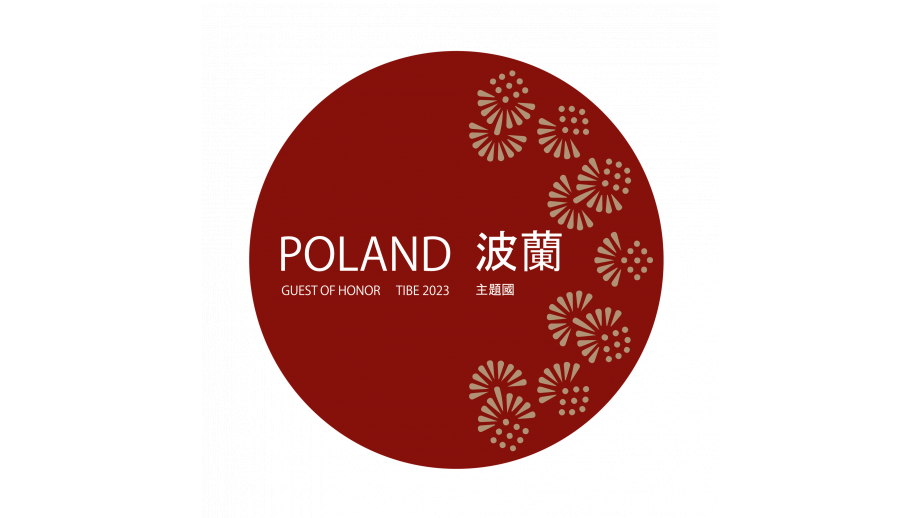 International Book Exhibition in Taipei begins 31 January - Poland as guest of honour
The International Book Exhibition, one of the most important events of its kind in the Far East, opens in Taiwan's capital Taipei on 31 January. This is the first time Poland will act as guest of honour. This will be an opportunity to promote not only Polish literature, but also culture. The fair will last until 5 February.
The Taipei International Book Exhibition TIBE is aimed primarily at the reading public, which entails an emphasis on meetings with authors, cultural entertainment, and book sales. However, events for publishers, agents, and other professional industry parties also play an important role. The main organiser of the Polish presentation is the Book Institute, supported by the Polish Office in Taipei and the Adam Mickiewicz Institute.
During the last exhibition before the pandemic (2019), a total of 580,000 people visited TIBE, with 735 exhibitors from 52 countries presenting on 1,859 stands. Previously, France, Hungary, Israel, and South Korea, to name a few, have acted as guests of honour.
"Participation in the fair is part of the Book Institute's consistently pursued mission to promote Polish literature abroad, including in places where it has so far remained underrepresented. Although Polish literature has triumphed around the world in recent years, as evidenced for example by the Nobel Prize for Literature awarded to Olga Tokarczuk, the numerous prizes for our children's literature at the prestigious Bologna International Book Fair, or the nominations for important international awards for Polish prose and poetry, we are still trying to make it reach as many places in the world as possible," emphasises the Book Institute.
Director of the Book Institute Dariusz Jaworski pointed out that the Institute does not treat these types of activities "as events, but instead they are preceded by a three-year plan". "The first year is all about preparations, the culmination of the second year is the fair, but we try to organise events - not only literary ones - throughout the year, and the third year is a continuation of these activities. He added that participation in the fair is "not only about books, literature, but also about promoting Polish culture abroad, hence music, visual arts, meetings that go beyond strictly literary discussions; cuisine".
To date, authors such as Janusz Korczak (thanks to translations by our country's great promoter Wei-Yun Lin-Górecka), Wisława Szymborska, and Andrzej Sapkowski have become very popular in Taiwan. More and more children's literature is also being published there, including books by Aleksandra and Daniel Mizieliński, Michał Rusinek, Piotr Socha and Wojciech Grajkowski, as well as Iwona Chmielewska, who is very popular in East Asia. Polish non-fiction literature, especially books by Witold Szabłowski, is also gaining an increasing audience.
The Taiwanese fair, which will return in full force after a pandemic break, will be an opportunity to showcase the best of Polish literature and illustration to readers and publishers there, as well as to publishers from East Asia (including South Korea and Japan). Particular emphasis will be placed on books that are about to be published or have been published in recent years in traditional Chinese translation and in English - novels, short story collections, essays, reportage, poetry, and literature for children and young adults.
The highlight of the Polish presentation will be live meetings with a representation of Polish authors from various fields of literature.
Writers Andrzej Sapkowski and Witold Szabłowski, who have already been translated into traditional Chinese, will meet Taiwanese audiences, as well as illustrators Piotr Socha and Marianna Oklejak, who are well-known locally. The event will also be attended by Stanisław Łubieński, whose book Książka o śmieciach ("What We Leave Behind") will have its premiere at the fair. Polish poetry will be represented by Marzanna Bogumiła Kielar, and comics by Bartosz Sztybor. Rafał Kosik, author of books for children, young people and adults, will also participate in the book exhibition. The programme will also include events around books by Bronisław Wildstein and Piotr Nowak, which have been translated into English.
The Polish presentation will take place primarily within a pavilion of more than 440 square metres, designed by Dr Anna Skołożyńska-Cieciera of ASC Studio, and referring to Polish traditional folk designs. There will be an information desk, an exhibition on Polish history, an exhibition presenting the traditions and present day of Polish children's illustration, a sales point for books by Polish authors translated into traditional Chinese, a stage for meetings with authors, workshop space, thematic zones, and a B2B meeting zone for publishers.
Polish publishers, literary agents, and cultural institutions will be exhibiting at our stand, including the State Publishing Institute (PIW), Powergraph, Foksal, Manuscriptum, Dwie Siostry, Nasza Księgarnia, Wydawnictwo Literackie, Andrew Nurnberg Associates, KaBooks, the National Library, International Cultural Centre, and Pilecki Institute.
The accompanying events will include, in addition to meetings with authors, art workshops for children and culinary demonstrations with tastings of Polish dishes.
Visitors to the Polish pavilion will be able to enjoy an exhibition devoted to Polish children's illustration - "Captains of Illustration from Poland", organised by the Adam Mickiewicz Institute and curated by Jacek Friedrich, as well as concerts by the Polish-Ukrainian band Dagadana, which has been combining elements of Polish and Ukrainian culture through jazz, electronica, and world music for over 14 years.
At the exhibition, visitors will be able to learn about the long and rich history of Polish children's literature and the related art of illustration, which developed most vigorously between 1950 and 1980. Works by artists working in the so-called golden age of Polish illustration, i.e. the 1960s and 1970s, as well as contemporary artists will be on display.
The International Book Exhibition in Taipei is part of the strategy pursued by the Book Institute, the aim of which is to have a sustained, distinct presence of Polish literature in places where up to now Polish books have not been available or have been insufficiently available.
The project was co-financed by funds from the Ministry of Culture and National Heritage as part of the task 'Poland as Guest of Honour at the TIBE 2023 International Book Exhibition in Taipei'.
Source: Polish Press Agency (PAP), Katarzyna Krzykowska