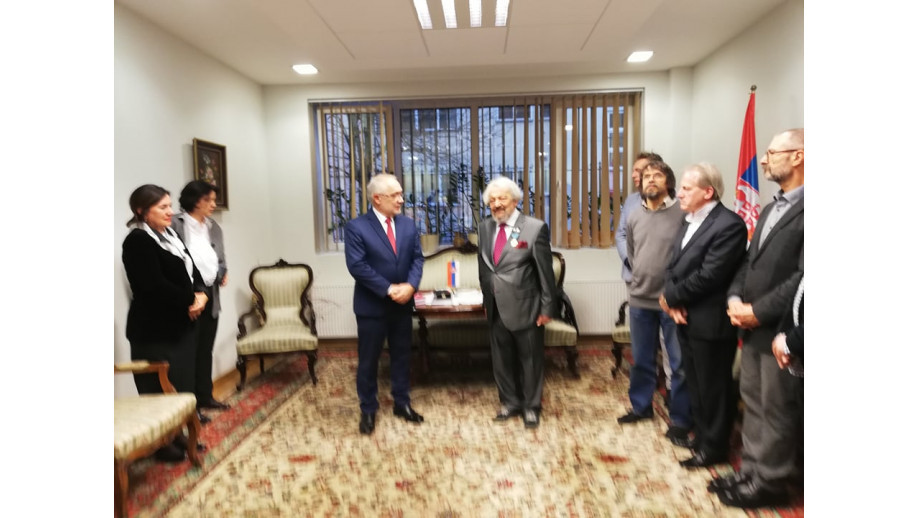 "Poetry is the soul of the nation". Grzegorz Łatuszyński awarded the Gold Medal for Merit by the President of Serbia Aleksandar Vučić
On Thursday in Warsaw, the Ambassador of the Republic of Serbia Nikola Zurovac decorated the slavist, writer, poet, and translator Grzegorz Łatuszyński with the Gold Medal for Merit. This is the first award for a Pole granted by the President of Serbia for 30 years.
"In appreciation of Grzegorz Łatuszyński's many years of work for the development of Polish-Yugoslavian and then Polish-Serbian cultural reciprocity, in particular the author's two-volume Antologia poezji serbskiej 20 wieku ("Anthology of Serbian Poetry of the 20th century") and a dozen or so individual book choices of the poetry of the most eminent Serbian poets, which were published for years in the "Agawa" Publishing House in Warsaw under his direction, as well as his own two-volume Antologia współczesnej polskiej poezji ("Anthology of Contemporary Polish Poetry") in Serbian, whose first volume was published in Serbia in 2019, he awarded him with the Gold Medal for Merit," was announced in the justification of the decision of the Serbian President Alexandar Vučić.
"Your anthologies present a wide cross section of poetry from the Balkan countries considered to be one of the most interesting in Europe today. Your translations successfully reflect the character, temperament, and soul of Serbian poetry, presenting to the Polish audience its beauty, uniqueness, and high level, as well as the broad historical and literary context in which it was and still is being created," wrote Dariusz Jaworski, Director of the Book Institute, in his congratulatory letter.
Grzegorz Łatuszyński warmly expressed his gratitude for the commendation, and then gave a short speech. "Poetry is the soul of the nation. Nations can only know each other through it. I am happy that I managed to present the best of both countries' poetry to Poles and Serbs," he said.
Grzegorz Łatuszyński was born on 9 May 1933 in Zdzięcioł near Nowogródek. He attended a Russian-speaking elementary school in Zdzięcioł during the Soviet occupation, a Belarusian-speaking school during the German occupation, and then again, a Russian-speaking school during the second Soviet occupation. In April 1946, he and his parents were displaced to Poland, where he completed primary education in a Polish-speaking school. He started his education at secondary school in Wąbrzeźno; after two years, he moved to the King Jan III Sobieski Secondary School in Grudziądz, where he passed his Matura exam (secondary school exit exam – translator's note). He graduated from the University of Warsaw with a master's degree in Polish Philology and Slavic Philology. He was also a course participant of the Postgraduate Studies of Film Knowledge in Warsaw conducted by Professor Aleksander Jackiewicz. During his studies, he worked for some time as a journalist in "Słowo Powszechne", he also contributed to "Życie Warszawy", "Nowe Książki", and "Współczesność".
Between 1959 and 1963, he completed postgraduate Slavic studies at the Faculty of Philology of the University of Zagreb and Belgrade. For 3 years, from 1960 to 1963, he was a Polish language teacher at the University of Belgrade, correspondent of "Życie Warszawy" from Belgrade, then a diplomatic employee of the Polish Embassy in Belgrade. In total, he spent over nine years in the former Yugoslavia.
After returning to Poland at the end of 1967, he started working for PWN Publishing House. He was the editor of the "Tor" Film Group; for a few years, he worked in the Ministry of Culture and Art - the General Board of Cinematography, and then, for three years, he was the secretary of the editorial office of the "Studio" film monthly. He has collaborated with the daily press and numerous literary magazines in Poland as a journalist, critic and translator of Serbian, Croatian, Bosnian, Montenegrin, and Macedonian poetry and prose, and with the literary press of the countries of the former Yugoslavia, where he published Polish poetry translated into Serbian and Croatian.
He translated into Croatian and Serbian the poems of over 130 contemporary Polish poets, including Zbigniew Bieńkowski, Jan Twardowski, Witold Wirpsza, Stanisław Swen Czachorowski, Anna Kamieńska, Karol Wojtyła, Krzysztof Kamil Baczyński, Tadeusz Różewicz, Julia Hartwig, Tymoteusz Karpowicz, Andrzej Trzebiński, Tadeusz Gajcy, Tadeusz Borowski, Miron Białoszewski, Bogumił Andrzejewski, Artur Międzyrzecki, Ludmiła Mariańska, Wisława Szymborska, Jerzy Ficowski, Zbigniew Herbert, Janusz Pasierb, Stanisław Czycz, Jan Górec-Rosiński, Roman Śliwonik, Mark Skwarnicki, Zbigniew Jankowski, Andrzej Bursa, Jerzy Harasymowicz, Stanisław Grochowiak, Ernest Bryl, Jarosław Marek Rymkiewicz, Halina Poświatowska, Edward Stachura, Krzysztof Karasek, Marian Grześczak, Tadeusz Śliwiak, Krystyna Rodowska, Joanna Pollakówna, Ryszard Milczewski-Bruno, Erwin Kruk, Jarosław Markiewicz, Józef Kurylak, Bogusław Kierc, Adriana Szymańska, Ryszard Krynicki, Ewa Lipska, Bohdan Zadura, Rafał Wojaczek, Adam Zagajewski, Jerzy Antoni Kornholt, Stanisław Barańczak, Julian Kornhauser, Jacek Berezin, Józef Baran, Janusz Adam Kobierski, Zbigniew Dominiak, Jan Polkowski, Bronisław Maj, Eugeniusz Kasjanowi­cz, Krzysz­tof Kuczkowski, Maciej Cisło, Piotr Matywiecki, Janusz Drzewucki, Jan Sochoń, Anna Janko, Aleksander Rybczyński, Wojciech Wencel, Leszek Długosz, Alicja Patey-Grabowska, Wojciech Banach, Andrzej Sosnowski, Grzegorz Kociuba, Wojciech Kass, Wojciech Kudyba, Jacek Napiórkowski, Marta Berowska, Szymon Babuchowski, Roman Misiewicz, Tadeusz Zachara, Krystyna Lenkowska, Jarosław Mikołajewski, Wojciech Wencel, Przemysław Dakowicz, Adrian Gleń, Tadeusz Dąbrowski, and others.
In 2012, an anthology of contemporary Polish poetry, selected and translated into Serbian by Łatuszyński, was published, and last year, the Mali Nemo publishing house published, with the support of the Book Institute's ©Poland Programme, the first volume of The Anthology of a Hundred Polish Contemporary Poets ("Сто Савремених Пољских Песника"), also selected and translated by him. The second volume of the anthology will be published this year.