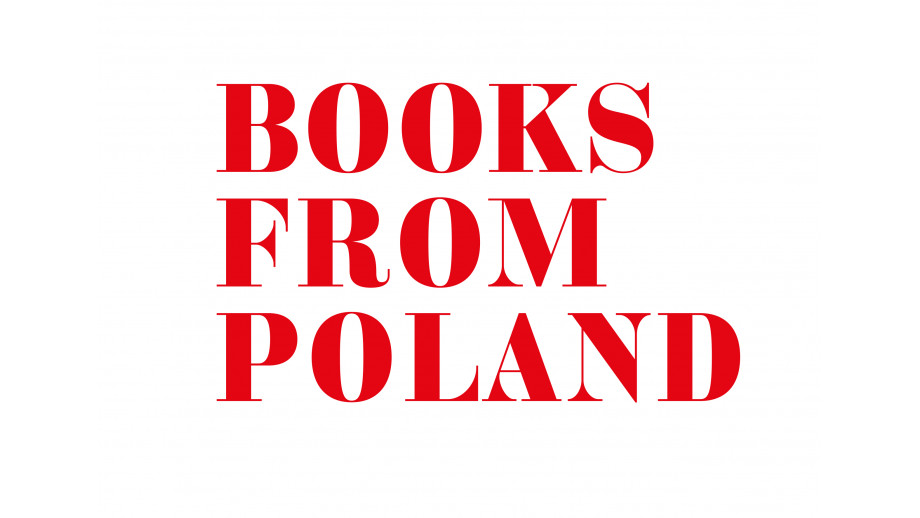 Books from Poland in English
The newest translations of Polish literature into English, published with the support of ©Poland Translation Program, and outside of the programme.
POETRY
Zbigniew Herbert, The Collected Poems 1956-1998, trans. Alissa Valles, Ecco, New York 2007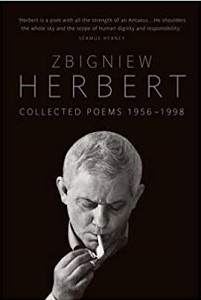 This outstanding new translation brings a uniformity of voice to Zbigniew Herbert's entire poetic output, from his first book of poems, String of Light, in 1956, to his final volume, previously unpublished in English, Epilogue Of the Storm. Collected Poems: 1956-1998, as Joseph Brodsky said of Herbert's Selected Poems, is "bound for a much longer haul than any of us can anticipate."
Jarosław Marek Rymkiewicz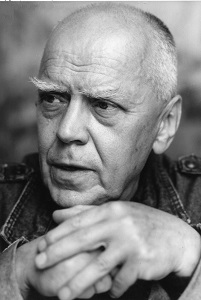 Jarosław Marek Rymkiewicz is one of Poland's most renowned poets, being also the author of numerous acclaimed essays, novels and stage plays, as well as the winner of several literary prizes. His work is often inspired by classicism and the Baroque, while his favourite topics include Polish history, national identity, existentialist reflections and the natural world.
Adam Mickiewicz, Pan Tadeusz. The Last Foray in Lithuania [Pan Tadeusz, czyli Ostatni zajazd na Litwie], trans. Bill Johnston, Archipelago Books, Brooklyn 2018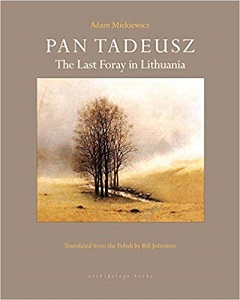 A towering achievement in European literature, Pan Tadeusz is the central work of the Polish literary canon, heralded for its lovingly detailed recreation of a bygone world. The traditions of the Polish gentry and the social and natural landscape of the Lithuanian countryside are captured in verse of astounding beauty, simplicity, and power. Bill Johnston's translation of this seminal text allows English-language readers to experience the richness, humor, and narrative energy of the original.
Adam Mickiewicz, The Sonnets [Sonety], trans. Charles Kraszewski, Glagoslav Publication, London 2018
Because the poetry of Adam Mickiewicz is so closely identified with the history of the Polish nation, one often reads him as an institution, rather than a real person. In the Crimean and Erotic Sonnets of the national bard, we are presented with the fresh, real, and striking poetry of a living, breathing man of flesh and blood. Mickiewicz proved to be a master of Petrarchan form.
Tomasz Różycki, Twelve Stations [Dwanaście stacji], trans. Bill Johnston, Zephyr Press, Brookline 2015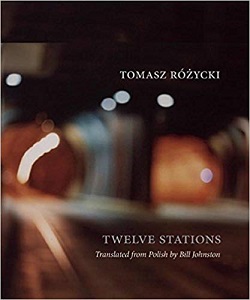 In this, his sixth book, Tomasz Rózycki talks back, both to history and to important literary predecessors such as Czeslaw Milosz and Adam Mickiewicz, in language that is as playful as it is masterful. Twelve Stations is a masterful work of contemporary world poetry by one of its most outstanding practitioners.
Wisława Szymborska, Map: Collected and Last Poems [Mapa : wiersze wybrane i ostatnie], trans. Stanisław Barańczak, Clare Cavanagh, Houghton Mifflin Harcourt, New York 2015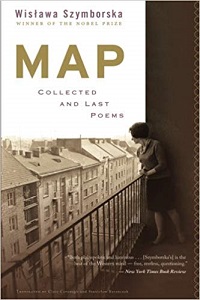 Szymborska, winner of the 1996 Nobel Prize in Literature, has her vast and impressive poetic repertoire on full display in this posthumously published volume. Ordered chronologically, the book reveals her development over seven decades, including a gradual departure from end rhyme and the sharpening of her wit.
Wisława Szymborska, Poems New and Collected, trans. Stanisław Barańczak, Clare Cavanagh, Houghton Mifflin Harcourt, Boston 2015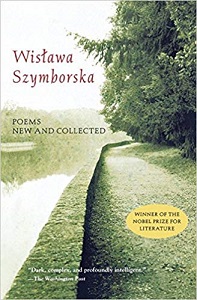 Described by Robert Hass as "unquestionably one of the great living European poets" and by Charles Simic as "one of the finest poets living today," Szymborska mesmerizes her readers with poetry that captivates their minds and captures their hearts. This is the book that her many fans have been anxiously awaiting-the definitive, complete collection of poetry by the Nobel Prize-winning poet, including 164 poems in all, as well as the full text of her Nobel acceptance speech of December 7, 1996, in Stockholm.
Wisława Szymborska, View with a Grain of Sand: Selected Poems [Widok z ziarnkiem piasku: 102 wiersze], Stanisław Barańczak, Clare Cavanagh, Houghton Mifflin Harcourt, Boston 2015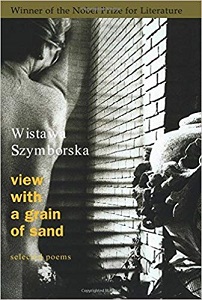 From one of Europe's most prominent and celebrated poets, a collection remarkable for its graceful lyricism. With acute irony tempered by a generous curiosity, Szymborska documents life's improbability as well as its transient beauty to capture the wonder of existence. Preface by Mark Strand. Translated by Stanislaw Baranczak and Clare Cavanagh, winners of the PEN Translation Prize.
Józef Baran, A Postcard from the Old World, trans. Ewa Hryniewicz-Yarbrough, Lulu Press, Raleigh 2016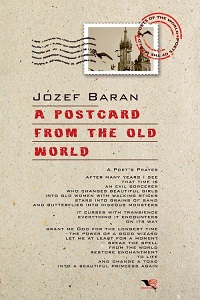 Baran resists attempts at neat categorization. If there's anything of peasant provenance in his poetry, it's his tenderness toward the earth and the natural world and his stubborn, even defiant independence from literary fads and trends.
Anna Swirszczyńska, Building the Barricade [Budowałam barykadę], trans. Piotr Florczyk, Tavern Books, Portland 2016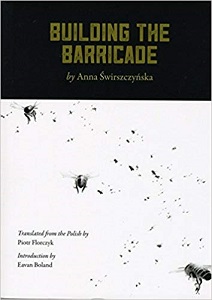 'War made me another person,' said Anna Świrszczyńska. Building the Barricade is the outcome of that change in that it took thirty years for these experiences to find their way into language. But the poem is also, undoubtedly, an agent of change, for us well as her. Stanza by stanza we see the speaker transformed, stripped of anything but the terrible truths she is recording.
Jacek Dehnel, Aperture, trans. Karen Kovacik, Zephyr Press, Brooklyn 2018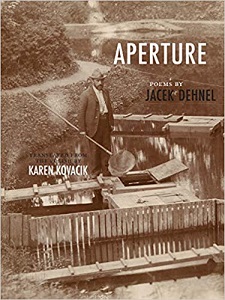 The poet brings his fascination with formal poetry to 21st century subjects ― internet culture, science, postmodern architecture ― even as he also explores intimacy, gay love, and emotionally-charged objects in this bilingual (Polish/English) collection.
Julian Kornhauser, I'm Half of Your Heart, trans. Piotr Florczyk, Lost Horse Press, Sandpoint 2018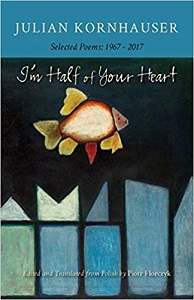 In more than seventy poems gathered in I'm Half of Your Heart: Selected Poems, 1967–2017, we encounter a poet who is as politically outspoken as he is lyrically private. Fascinated by the quotidian bric-a-brac, keenly attuned to the plight of the less fortunate among us, and immersed in timeless philosophical, historical, and aesthetic peregrinations, Kornhauser remains our contemporary by speaking loud and clear about what it is that makes us human. This career-spanning volume provides readers in the English-speaking world with the largest ever selection of poems by one of Poland's premier poets.
Ryszard Krynicki, Magnetic Point [Magnetyczny punkt], trans. Clare Cavanagh, New Directions, New York 2017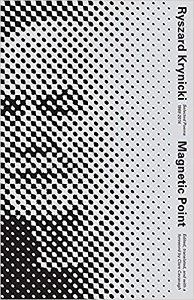 One of Poland's greatest living poets―now in English at last―Ryszard Krynicki was born in 1943 in a Nazi labor camp, the son of Polish slave laborers. His 1969 volume, Act of Birth, marked the emergence of a major voice in the "New Wave" of Polish poetry. In Krynicki's work, political and poetic rebellion converged during the 1970s and '80s, he was arrested on trumped-up charges and forbidden from publishing. But his poetry is hardly just political. From the early dissident poems to his recent haiku, Krynicki's lyrical work taps deep wells of linguistic acuity, mysticism, compression, and wit.
Ryszard Krynicki, Our Life Grows, trans. Alissa Valles, NYRB, New York 2017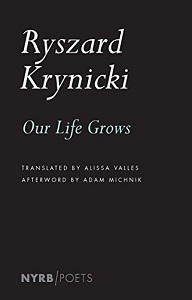 Our Life Grows, published in Paris in 1978, was the first poetry collection to appear as Krynicki intended, beyond the reach of the Communist censorship that had crippled his earlier books. These poems, combining a biting wit and rigorously questioning mind with a surreal imagination, are a vital part of the story of postwar Europe.
Justyna Bargielska, The Great Plan B, trans. Maria Jastrzębska, Smokestack Books, Grewelthorpe 2017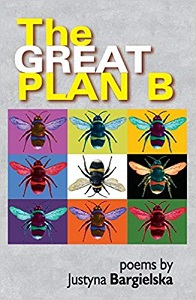 The Great Plan B introduces British readers to the work of a poet who examines, with forensic precision, the landscapes of quotidian existence, our disappointments and humiliations. Combining colloquial diction, philosophical enquiry and religious references, these poems are witty, tongue-in-cheek, both self-deprecating and macabre while death is increasingly present, implacable. You can never be entirely certain whether she is serious or joking.
FICTION
Dorota Masłowska, White and Red [Wojna polsko-ruska pod flagą biało-czerwoną], trans. Benjamin Paloff, Atlantic Books, London 2015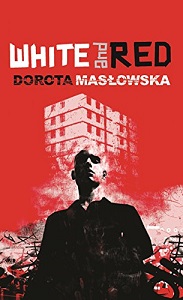 An audacious, fresh portrait of marginalized, fatalistic post-Communist youth. With inventive and visceral language that is by turns poetic, hilarious, disturbing and dirty, White and Red is a powerful portrait of love, hopelessness and political burnout in contemporary Eastern Europe.
Andrzej Bursa, Killing Auntie [Zabicie ciotki], trans. Wiesiek Powaga, New Vessel Press, New York, 2015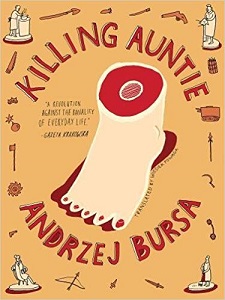 A young university student named Jurek, with no particular ambitions or talents, is adrift. After his doting aunt asks him to perform a small chore, he decides to kill her for no good reason other than, perhaps, boredom. Killing Auntie follows Jurek as he seeks to dispose of the corpse—a task more difficult than one might imagine—and then falls in love with a girl he meets on a train. Can he tell her what he's done? Will that ruin everything?
Andrzej Sapkowski, Baptism of Fire [Chrzest ognia], trans. David French, Gollancz, London 2015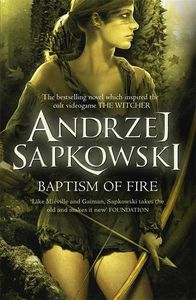 The Wizards Guild has been shattered by a coup and, in the uproar, Geralt was seriously injured. The Witcher is supposed to be a guardian of the innocent, a protector of those in need, a defender against powerful and dangerous monsters that prey on men in dark times.
Andrzej Sapkowski, Sword of Destiny [Miecz przeznaczenia], trans. David French, Orbit, New York 2015 / Gollancz, London 2015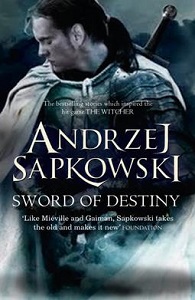 Geralt is a witcher, a man whose magic powers, enhanced by long training and a mysterious elixir, have made him a brilliant fighter and a merciless assassin. Yet he is no ordinary murderer: his targets are the multifarious monsters and vile fiends that ravage the land and attack the innocent. This is a collection of short stories, following the adventures of the hit collection The Last Wish.
Henryk Sienkiewicz, In Desert and Wilderness [W pustyni i w puszczy], trans. Max Anthony Drezmal, Andesite Press, 2015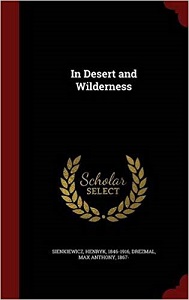 In Desert and Wilderness is a popular young adult novel by Polish author and Nobel Prize-winning novelist Henryk Sienkiewicz, written in 1911. In Desert and Wilderness tells the story of two young friends, Stas Tarkowski (14 years old) and Nel Rawlison (8 years old), kidnapped by rebels during Mahdi's rebellion in Sudan. It was adapted for film twice, in 1973 and in 2001.
Andrzej Stasiuk, Nine [Dziewięć], trans. Bill Johnston, Houghton Mifflin Harcourt, Boston 2015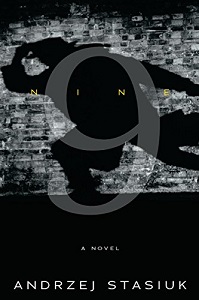 In this novel Andrzej Stasiuk portrays a generation of Poles, freed from outdated ideologies but left feeling adrift and disconnected from family, neighbors, and friends. At once existential crime fiction and a work of art, Nine establishes Stasiuk as a major voice in European literature.
Stanisław Lem, Mortal Engines [Bajki robotów], trans. Michael Kandel, Penguin Classics, London 2016
A freighter pilot leads a manhunt across the Moon for a robot gone berserk; a shapeshifting assassin falls in love with the man she's programmed to kill; a paranoid King converts his kingdom into his artificial mind, but his dreams rebel. These stories range from surreal fables that satirically turn the fairy tale on its head, to longer works including the man vs. robot thriller, 'The Hunt', and possibly fiction's strangest love story, 'The Mask'. In Mortal Engines Stanislaw Lem lays bare humanity's clash with machines, masterfully exploring science fiction's furthest frontiers.
Stanisław Lem, Solaris [Solaris], Joanna Kilmartin, Steve Cox, Faber & Faber, London 2016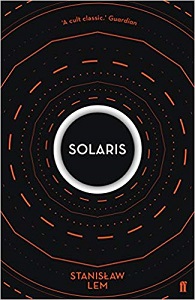 Solaris raises a question that has been at the heart of human experience and literature for centuries: can we truly understand the universe around us without first understanding what lies within?
Stanisław Lem, The Star Diaries [Dzienniki gwiazdowe], trans. Michael Kandel, Penguin Classics, London 2016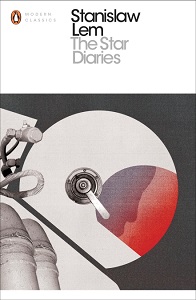 Stanislaw Lem's set of short stories, written over a period of twenty years, all feature the adventures of space traveller Ijon Tichy and recount him spinning in time-warps, spying on robots, encountering bizarre civilizations and creatures in space and being hopelessly lost in a forest of supernovae. This is a philosophical satire on technology, theology, intelligence and human nature from one of the greatest of science fiction writers.
Zygmunt Miłoszewski, Rage [Gniew], trans. Antonia Lloyd-Jones, AmazonCrossing, Seattle 2016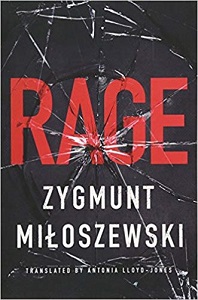 All eyes are on famous prosecutor Teodor Szacki when he investigates a skeleton discovered at a construction site in the idyllic Polish city of Olsztyn. Old bones come as no shock to anyone in this part of Poland, but it turns out these remains are fresh, the flesh chemically removed.
Zofia Nałkowska, Boundary [Granica], trans. Ursula Phillips, Northern Illinois University Press, DeKalb 2016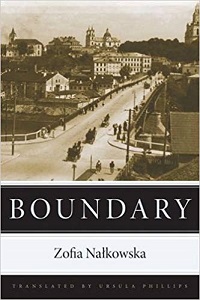 Nalkowska was a pioneer of feminist fiction in Central Europe. Her observation of inequality in the treatment of men and women is at the heart of Boundary, which explores a transgressive love affair and its repercussions. While Boundary can be interpreted as a novel about power and its abuses, it contains several dimensions—philosophical, emotional, existential, moral—that render it a consummate piece of social criticism. An elegantly composed work of imaginative fiction, it does not preach or offer solutions.
Andrzej Sapkowski, The Tower of Swallows [Wieża Jaskółki], trans. David French, Orion Publishing, London 2016 / Orbit, New York 2016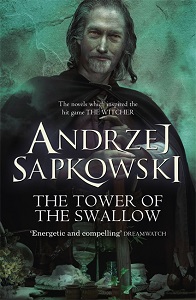 The world has fallen into war. Ciri, the child of prophecy, has vanished. Hunted by friends and foes alike, she has taken on the guise of a petty bandit and lives free for the first time in her life. But the net around her is closing. Geralt, the Witcher, has assembled a group of allies determined to rescue her. Both sides of the war have sent brutal mercenaries to hunt her down. Her crimes have made her famous. There is only one place left to run. The tower of the swallow is waiting.
Henryk Sienkiewicz, Quo Vadis: A Narrative of the Time of Nero [Quo vadis], trans. Jeremiah Curtin, CreateSpace Independent Publishing Platform, North Charleston 2016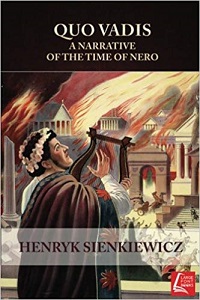 Quo Vadis tells of a love that develops between a young Christian woman, Ligia (or Lygia), and Marcus Vinicius, a Roman patrician. It takes place in the city of Rome under the rule of emperor Nero around AD 64. Sienkiewicz studied the Roman Empire extensively prior to writing the novel, with the aim of getting historical details correct. As such, several historical figures appear in the book.
Magdalena Tulli, Dreams and Stones [Sny i kamienie], Bill Johnston, Archipelago Books, New York 2016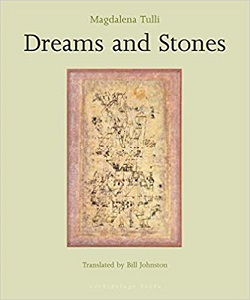 Dreams and Stones is a small masterpiece, one of the most extraordinary works of literature to come out of Central and Eastern Europe since the fall of communism. In sculpted, poetic prose reminiscent of Bruno Schulz, it tells the story of the emergence of a great city. In Tulli's hands myth, metaphor, history, and narrative are combined to magical effect.
Żanna Słoniowska, The House with the Stained-Glass Window [Dom z witrażem], trans. Antonia Lloyd-Jones, MacLehose Press, London 2017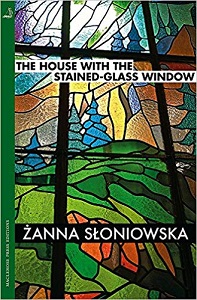 The acclaimed story of a young girl's awakening - set in the the evocative, beautiful Ukrainian/Polish city of Lviv.
Wioletta Greg, Swallowing Mercury [Guguły], trans. Eliza Marciniak, Portobello Books, London 2017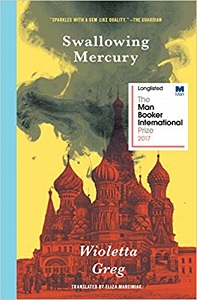 In this celebrated debut from prize-winning poet Wioletta Greg, Wiola looks back on her youth in a close-knit, agricultural community in 1980s Poland. Her memories are precise, intense, distinctive, sensual: a playfulness and whimsy rise up in the gossip of the village women, rumored visits from the Pope, and the locked room in the dressmaker's house, while political unrest and predatory men cast shadows across this bright portrait. In prose that sparkles with a poet's touch, Wioletta Greg's debut animates the strange wonders of growing up.
Olga Tokarczuk, Flights [Bieguni], trans. Jennifer Croft, Fitzcarraldo Edition, London 2017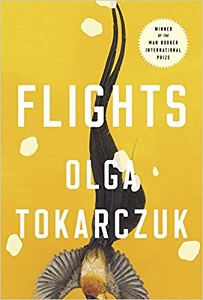 From the incomparably original Polish writer Olga Tokarczuk, Flights interweaves reflections on travel with an in-depth exploration of the human body, broaching life, death, motion, and migration.
Olga Tokarczuk, Drive Your Plow over the Bones of the Dead [Prowadź swój pług przez kości umarłych, trans. Antonia Lloyd-Jones, London 2018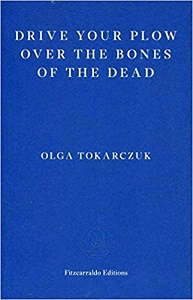 With Drive Your Plow over the Bones of the Dead, Man Booker International Prize-winner Olga Tokarczuk returns with a subversive, entertaining noir novel. In a remote Polish village, Janina Duszejko, an eccentric woman in her sixties, recounts the events surrounding the disappearance of her two dogs. She is reclusive, preferring the company of animals to people; she's unconventional, believing in the stars; and she is fond of the poetry of William Blake, from whose work the title of the book is taken. When members of a local hunting club are found murdered, Duszejko becomes involved in the investigation.
Bruno Schulz, Collected Stories [Opowiadania], trans. Madeline G. Levine, Northwestern University Press, Evanston 2018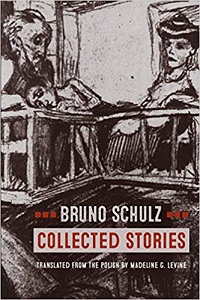 Collected Stories is an authoritative new translation of the complete fiction of Bruno Schulz, whose work has influenced writers as various as Salman Rushdie, Cynthia Ozick, Jonathan Safran Foer, Philip Roth, Danilo Kiš, and Roberto Bolaño. Schulz's prose is renowned for its originality. Set largely in a fictional counterpart of his hometown of Drohobych, his stories merge the real and the surreal. The most ordinary objects—the wind, an article of clothing, a plate of fish—can suddenly appear unfathomably mysterious and capable of illuminating profound truths.
Ignacy Karpowicz, Gestures [Gesty], trans. Maya Zakrzewska-Pim, Dalkey Archive Press, Champaign / London / Dublin 2017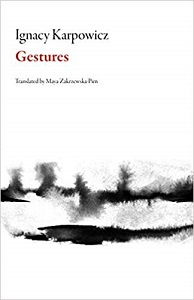 A forty-year-old man, burying himself in work and avoiding close emotional bonds with people, pays a visit to his mother in the country and is forced to extend it upon discovering her illness. While there, he reevaluates past familial and romantic relationships and finally attempts to build new ones. Gestures is "a psychologically precise and moving autopsy of a 'man in the wake of ordeals.'"
Ignacy Karpowicz, Sonka [Sońka], trans. Maya Zakrzewska-Pim, Dalkey Archive Press, Champaign / London / Dublin 2018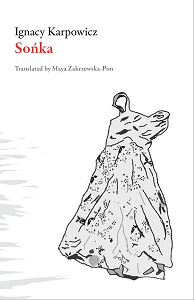 Sonka is the story of an old woman, lonely, forgotten, and shunned by her community, until one day a theater director's car breaks down near her house, and an unexpected guest supplies her with the chance to tell her story. And so unfolds her tale of love between an SS officer and a local girl against the backdrop of the Second World War. Everyday chores are threaded with executions, stolen moments in between episodes of abuse, lies are thoughtlessly uttered only to change the worlds and lives of two families forever.
Jacek Dehnel, Lala [Lala], trans. Antonia Lloyd-Jones, Oneworld Publications, London 2018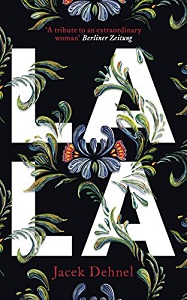 A lyrical and moving Polish family saga set against the turbulent backdrop of twentieth-century Europe. Lala has lived a dazzling life. Born in Poland just after the First World War and brought up to be a perfect example of her class and generation – tolerant, selfless and brave – Lala is an independent woman who has survived some of the most turbulent events of her times. As she senses the first signs of dementia, she battles to keep her memories alive through her stories, telling her grandson tales of a life filled with love, betrayal and extraordinary acts of courage.
NON-FICTION
Miron Białoszewski, A Memoir of the Warsaw Uprising [Pamiętnik z powstania warszawskiego], trans. Madeline G. Levine, New York Review Books, New York 2015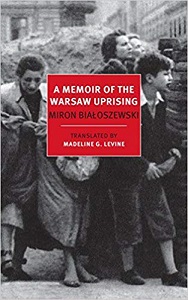 Białoszewski's blow-by-blow account of the uprising brings it alive in all its desperate urgency. Here we are in the shoes of a young man slipping back and forth under German fire, dodging sniper bullets, collapsing with exhaustion, rescuing the wounded, burying the dead. An indispensable and unforgettable act of witness, A Memoir of the Warsaw Uprising is also a major work of literature.
Anna Bikont, The Crime and the Silence [My z Jedwabnego], trans. Alissa Valles, Farrar, Straus and Giroux, New York 2015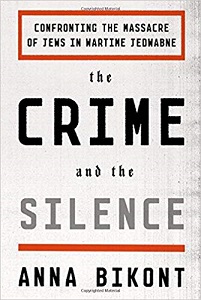 A monumental work of nonfiction on a wartime atrocity, its sixty-year denial, and the impact of its truth.
Wojciech Jagielski, Burning the Grass: At the Heart of Change in South Africa, 1990-2011 [Wypalanie traw], trans. Antonia Lloyd-Jones, Seven Stories Press, New York 2015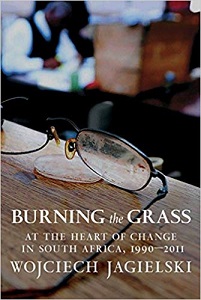 In the great modern narrative nonfiction tradition of Ryszard Kapuściński, Burning the Grass is a literary masterpiece of true crime based on the April 2010 murder of Eugène Terre'Blanche, firebrand leader of the far-right AWB (Afrikaner Weerstandsbeweging--the Afrikaner Resistance Movement), who espoused white Afrikaner rule even as it was ending in South Africa.
Hubert Klimko-Dobrzaniecki, Lullaby for a Hanged Man [Kołysanka dla wisielca], trans. Julia Sherwood, Peter A. Sherwood, Calypso Editions, Philadelphia 2015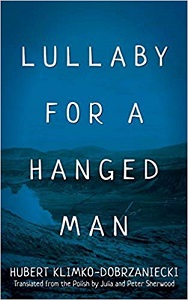 Lullaby for a Hanged Man tells the story of three East Europeans - a Polish musician, a Croatian artist and a budding Polish writer (the author's alter ego) - trying to build a new life for themselves far from home, in dark and cold Iceland. This sensitive exploration of friendship, love, insanity and death as well as a depiction of the immigrant experience and an artistic and spiritual quest, is by turns wildly comic, moving and poetic.
Wisława Szymborska, Nonrequired Reading: Prose Pieces [Lektury nadobowiązkowe], trans. Clare Cavanagh, Houghton Mifflin Harcourt, Boston 2015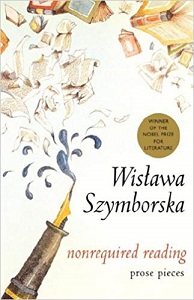 Wislawa Szymborska's poems are admired around the world, and her unsparing vision, tireless wit, and deep sense of humanity are cherished by countless readers. Unknown to most of them, however, Szymborska also worked for several decades as a columnist, reviewing a wide variety of books under the unassuming title Nonrequired Reading.
Ryszard Kapuścinski, The Beginning: Collision, Ghana, 1958 [Heban], Klara Głowczewska, Vintage Books - Penguin Random House, New York 2016
As British rule came to an end in Ghana, Polish journalist Ryszard Kapuscinski journeyed to the country to witness the birth of a new republic.
Lidia Ostałowska, Watercolors [Farby wodne], trans. Sean Bye, Zubaan Books, New Delhi 2016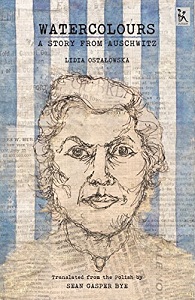 A many-layered work of historical reportage, Watercolours draws on the real life story of Dina Gottliebova-Babbitt (1923-2009), a Czech-American artist of Jewish ancestry, who was a prisoner at Auschwitz, and whose story came to light in the late 1990s. It was at this time that Gottliebova attempted once more to recover the art she had created in the concentration camp, and which had become the property of the Auschwitz-Birkenau State Museum. The dispute escalated into an international scandal, with the American Department of State and the Polish government becoming involved.
Józef Wittlin, Philippe Sands, City of Lions, trans. Antonia Lloyd-Jones, Pushkin Press, London 2017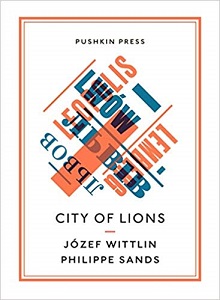 The Ukrainian city Lviv's many names (Lviv, Lvov, Lwow, Lemberg, Leopolis) bear witness to its conflicted past - it has, at one time or another, belonged to the Austro-Hungarian Empire, Poland, Russia and Germany, and has brought forth numerous famous artists and intellectuals. My Lwow, Józef Wittlin's short 1946 treatise on the city he left in 1922, is a wistful and lyrical study of an electrifying cosmopolis, told from the other side of the catastrophe of the Second World War. Philippe Sand's essay provides a parallel account of the city as it is today.
Witold Szabłowski, Dancing Bears [Tańczące niedźwiedzie], trans. Antonia Lloyd-Jones, Penguin Random House, New York 2018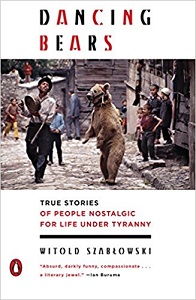 In the tradition of Ryszard Kapuściński, award-winning Polish journalist Witold Szabłowski uncovers remarkable stories of people throughout Eastern Europe and in Cuba who, like Bulgaria's dancing bears, are now free but who seem nostalgic for the time when they were not.
Janusz Korczak, How to Love a Child (vol.1-2) [Jak kochać dziecko], trans. Benjamin Paloff, Danuta Borchardt, Sean Gasper Bye, Vallentine Mitchell, Chicago 2018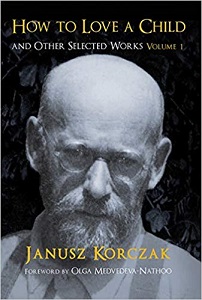 How to Love a Child and Other Selected Works is the first comprehensive collection of Korczak's works translated into English. It contains his most important pedagogical writings, journal articles, as well as private texts.
Józef Czapski, Lost time: Lectures on Proust in a Soviet Prison Camp, trans. Eric Karplers, NYRB, New York 2018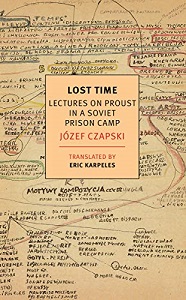 During the Second World War, as a prisoner of war in a Soviet camp, and with nothing but memory to go on, the Polish artist and soldier Józef Czapski brought Marcel Proust's In Search of Lost Time to life for an audience of prison inmates. In a series of lectures, Czapski described the arc and import of Proust's masterpiece, sketched major and minor characters in striking detail, and movingly evoked the work's originality, depth, and beauty.
Adam Zagajewski, Slight Exaggeration [Lekka przesada], trans. Clare Cavanagh, Farrar, Straus and Giroux, New York 2017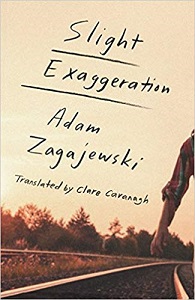 For Adam Zagajewski―one of Poland's great poets―the project of writing, whether it be poetry or prose, is an occasion to advance what David Wojahn has characterized as his "restless and quizzical quest for self-knowledge." Slight Exaggeration is an autobiographical portrait of the poet, arranged not chronologically but with that same luminous quality that distinguishes Zagajewski's spellbinding poetry―an affinity for the invisible.
Filip Springer, The Story of Dissaperance [Miedzanka. Historia Znikania], trans. Sean Gaspar Bye, Restless Books, Brooklyn 2017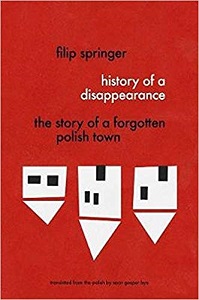 In this collection of unsparing and insightful reportage, the renowned journalist, photographer, and architecture critic Filip Springer rediscovers tiny town's history. Digging beyond the village's mythic foundations and the great wars and world leaders that shaped it, Springer catalogs the lost human elements: the long-departed tailor and deceased shopkeeper; the parties, now silenced, that used to fill the streets with shouts and laughter; and the once-beautiful cemetery, with gravestones upended by tractors and human bones scattered by dogs.
DRAMA
Amelia Hertzówna, Decadent Histories: Four Plays by Amelia Hertz [Yseult o białych dłoniach, Fleur-de-Lys, Zburzenie Tyru, Wielki król], trans. Jadwiga Kosicka, Martin E. Segal Theatre Center, New York 2015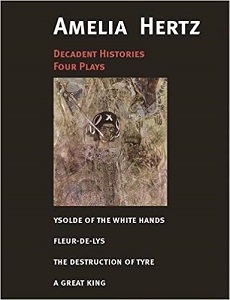 Ysolde of the White Hands, Fleur-de-Lys, The Destruction of Tyre, and A Great King, which make up this volume of Decadent Histories, deal with fin-de-siècle subjects rife with perverse sexuality and violence: the Tristan myth in revisionist guise from a female perspective; the serial child-murderer Gilles de Rais and his young daughter who develops a taste for murder herself; the Prophet Ezekiel as he visits the ruins of Tyre; and the decline of Byzantium under Justinian and his general Belisarius during a time of conspiracies.
Franciszka Urszula Radziwiłłowa, Selected Drama and Verse, trans. Patrick John Corness, Arizona Center for Medieval and Renaissance Studies, Tempe 2015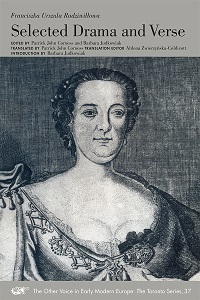 This edition presents, for the first time in English, a selection from the repertoire of the first Polish woman dramatist, Princess Franciszka Urszula Radziwiłłowa (1705–1753), with a historical-biographical Introduction incorporating interpretations of her works. Radziwiłłowa's plays treated complex issues concerning intimate relationships. In her poetry she explored new, very personal, means of expression for intimate declarations, in a form of language capable of conveying the emotional distress that could not find expression under existing conventions.
Stanisław Ignacy Witkiewicz, Vahazar: Or on the Uplands of Absurdity [Gyubal Wahazar: czyli Na przełęczach bezsensu (nieeuklidesowy dramat w czterech aktach)], trans. Celina Wieniewska, Black Scat Books, San Francisco 2015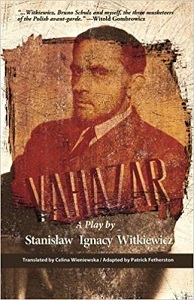 Witkiewicz takes up and continues the vein of dream and grotesque fantasy exemplified by the late Strindberg or by Wedekind; his ideas are closely paralleled by those of the surrealists and Antonin Artaud which culminated in the masterpieces of the dramatists of the absurd—Beckett, Ionesco, Genet, Arrabal—of the late nineteen forties and the nineteen fifties.
Felicja Kruszewska, A Dream [Sen], trans. Jadwiga Kosicka, Routledge, London 2016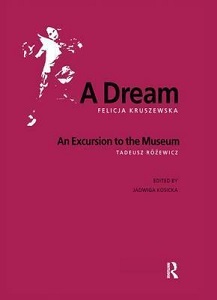 The translation of Felicja Kruszewska's A Dream introduces a major play by a twentieth-century female playwright to the English-speaking world. On March 7, 1927 A Dream - a large-scale expressionistic drama by an unknown poet - burst on the Polish theatrical scene in a dazzling debut production by the young actor Edmund Wiercinski, who would become one of the outstanding directors of his time. The play's hallucinatory visions of the rise of fascism and the heroine's longing for a providential savior on a white horse spoke directly to Polish audiences about their deepest anxieties.
Adam Mickiewicz, Forefathers' Eve [Dziady], trans. Charles Kraszewski, Glagoslav Publications, London 2016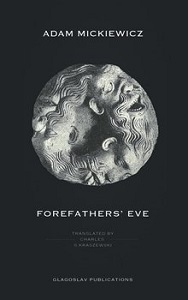 Forefathers' Eve is a four-part dramatic work begun circa 1820 and completed in 1832 – with Part I published only after the poet's death, in 1860. The drama's title refers to Dziady, an ancient Slavic and Lithuanian feast commemorating the dead. This is the grand work of Polish literature, and it is one that elevates Mickiewicz to a position among the "great Europeans" such as Dante and Goethe.
Stanisław Wyspiański, Acropolis: the Wawel Plays [Akropolis], trans. Charles Kraszewski, Glagoslav Publications, London 2017
Although he never left his native Kraków except for relatively short periods, Stanisław Wyspiański (1869-1907) achieved worldwide fame, both as a painter, and Poland's greatest dramatist of the first half of the twentieth century. Acropolis: the Wawel Plays, brings together four of Wyspiański's most important dramatic works in a new English translation by Charles S. Kraszewski.
BOOKS FOR CHILDREN
Jan Bajtlik, Alphadoodler, trans. Eliza Marciniak, Tate Publishing, London 2016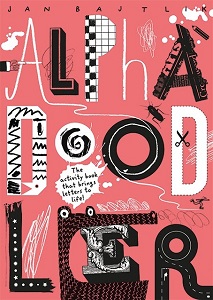 Alphadoodler is an electrifying activity book that brings letters to life. Developed by award-winning graphic designer Jan Bajtlik, Alphadoodler invites children to take an anarchic approach to the alphabet for their own creative expression.
Aleksandra i Daniel Mizielińscy, Under water, under earth [Pod wodą, pod ziemią], trans. Daniel Mizieliński, Antonia Lloyd-Jones, Templar Publishing, Dorking 2016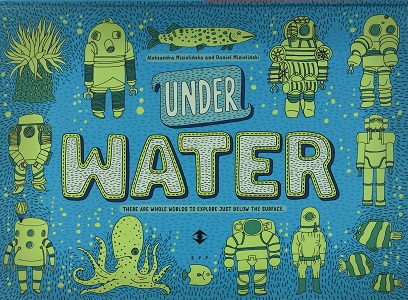 Hundreds of fascinating facts are waiting to be unearthed in this latest book from Aleksandra Mizielinska and Daniel Mizielinski, the creative duo behind the best-selling Maps. Dive below the surface and find out what happens under earth and under sea—from early submarines and deep-sea life to burrowing animals and man-made tunnels. You will never look at the world in the same way again! Gorgeous design and quirky illustrations make this a book to be pored over again and again.
Krystyna Boglar, Celmentine Loves Red [Klementyna lubi kolor czerwony], trans. Antonia Lloyd-Jones, Zosia Krasodomska, Pushkin Press, London 2017
It's the end of the holidays for Mark, Annie and Pudding (real name: Derek). They've spent the summer in a cottage on the edge of a forest in the countryside, but they haven't had any really exciting adventures to tell their classmates back at school... Until, on their final visit to see the Frog King of a nearby pond, they find a frightened young girl crying in the woods. The curiously named Macadamia tells them she has lost Clementine, and so the three children set out on a quest to find her. But they are not the only ones looking for Clementine, and a storm is approaching, bringing with it a night full of surprises...
Piotr Socha, Wojciech Grajkowski, The Book of Bees [Pszczoły], Thames and Hudson, London 2017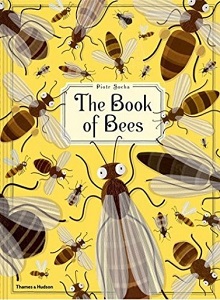 One part science, one part cultural history, and countless parts fascination, Bees celebrates the important role that these intriguing insects have played in our ecosystem throughout the ages. From Athena to Alexander the Great and from Egypt to Ethiopia, Bees explores different methods of beekeeping and uncovers the debt that humans owe this vital species. With beautifully accessible illustrations depicting everything from bee anatomy to the essentials of honey making, readers will be captivated by the endless wonders of this seemingly small speck of the animal kingdom.
Piotr Socha, Wojciech Grajkowski, The Book of Trees [Drzewa], Thames and Hudson, London 2018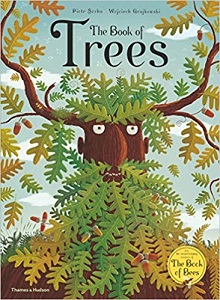 What's the tallest tree in the world? How long have trees existed and how long can they live? Where can you stay in a treehouse hotel? And how can we make sure that trees survive for the future? This encyclopaedic book answers all these questions and many more with a light, witty touch. Piotr Socha tracks the history of trees from ancient times to the present day, examining along the way the role trees have played in history, legend and in the rest of the natural world.
Gabriela Mycielska, Aleksandra i Daniel Mizielińscy, Impossible Inventions [Ale patent!], trans. Agnes Monod-Gayraud, Gecko Press, Wellington 2018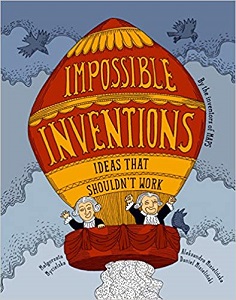 A funky and fascinating collection of ideas, patents, and plans. When Leonardo da Vinci, over five hundred years ago, invented the tank, car, helicopter, glider, parachute, submarine, elevator, and telescope, he was considered a dreamer. Or even crazy. Today he is understood to be a genius, ahead of his time. This book collects ancient and modern inventions. Some are revolutionary, others comical, others simply impossible. But each testifies to the extraordinary imagination of its inventor. You'll find a flying bicycle, a bubble telegraph, passenger clouds and passenger birds, mechanical chess players, a water clock, a concentration hood, and many more incredible ideas.