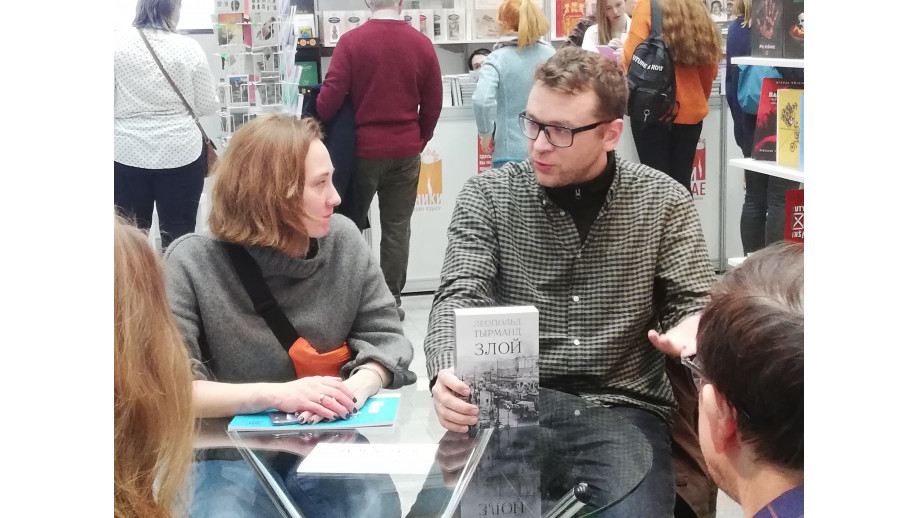 Woźniak, Socha, and Herling-Grudziński at the International Non/fiction Book Fair in Moscow [report and photos]
At the International Non/fiction Fair in Moscow, Polish literature is very present this year. On Sunday, Marcel Woźniak and the translator Nina Fiodorova met with the readers, the Russian translation of Herling-Grudziński's Inny świat ("A World Apart") and Czapski's Lekcja o Prouście ("Lessons about Proust") were presented, and a lecture on children's literature was given by Piotr Socha.
Traditionally, the Polish stand at the fair is accompanied by a literary programme, which this year is organised entirely by the Polish Institute in Moscow. Marcel Woźniak and Nina Fiodorova, a translator, reminded the Russian audience of the recently reissued translation of Leopold Tyrmand's Zły ("Bad") translated by Ksenia Starosielska and Nina Fiodorova. As part of the Herling-Grudziński Year, Irina Krawiecova from Ivan Limbach publishing house, poet and journalist Elena Fanajlov, and historian Konstantin Lvov presented a Russian translation of The World Apart. Lastly, Anastasia Wiekszina, a translator and Polish Institute expert in Moscow, presented a Russian translation of Józef Czapski's Lessons about Proust and a bilingual edition of his anthology of Polish wartime poetry. All these events took place at the Polish stand.
Additionally, as part of the illustration programme of the Non/fiction fair, a lecture was delivered by Piotr Socha, whose Pszczoły (" The Book of Bees") and Drzewa ("The Book of Trees") with the support of the ©Poland Translation Programme were published in Russia by the Publishing House Samokat.
The Moscow fair will last until Monday, December 9th.
Gallery