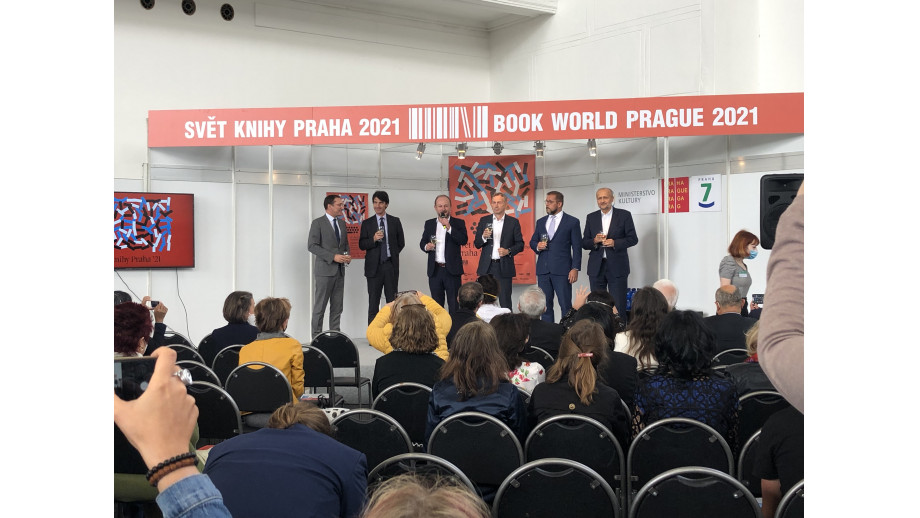 The International Book Fair and Literary Festival Svět knihy in Prague has begun [report and photos]
The International Book Fair and Literary Festival Book World (Svět knihy) started today. This is one of the first European fairs to be held after the outbreak of the pandemic. The Fair was officially opened by the organisers, representatives of the Czech and French Ministries of Culture, as well as the Director of the Book Institute. This year, exceptionally, the red ribbon was not cut, but a toast was made to this and future book fairs.
In his speech, Dariusz Jaworski, Director of the Book Institute, emphasised that Poland is very happy to appear in Prague as a special guest.
"In Poland, the year 2021 gained several patrons by a resolution of the Parliament, among them the poets Cyprian Kamil Norwid, Krzysztof Kamil Baczyński, Tadeusz Różewicz, Stanisław Lem, and Cardinal Stefan Wyszyński. The Polish representatives at the fair and festival will also talk about two of the aforementioned figures: about an outstanding writer-futurologist, whose books served as scripts for several world-famous films, including Hollywood productions, and about one of those without whom the systemic change in Central and Eastern Europe in 1989 could not have taken place. Over a week ago, Cardinal Wyszyński was proclaimed Blessed by the Catholic Church, and a few weeks ago, a biography of this eminent priest was published in Czech, which we have the honour to present to the Czech public right here at Svet knihy. The legacy of St Adalbert of Prague, which came to us from the Czech Republic, is returning to us in some measure. I am glad that we can somewhat contribute to this," said the director of the Book Institute, wishing everyone that the book fair and literary festivals would return to their permanent place in the calendar of annual cultural events.
Polish literature is showcased at a stand organised by the Book Institute and the Polish Institute in Prague. Publishers and readers will have the opportunity to get acquainted with several reportage books (including Witold Szabłowski's book and Jack Fairweather's famous book about Captain Pilecki), a novel drawing inspiration from history (Martyna Bunda), popular science literature (Tomasz Rożek), biography (Rafał Łatka - co-author of a work devoted to Cardinal Wyszyński), and children's book illustrations (Maciej Szymanowicz).
The book presentations will also be accompanied by two exhibitions - one of book illustrations for children and a post-competition comics exhibition inspired by the work of Stanisław Lem. The entire event will be crowned by a concert by the band Hańba!
France is the guest of honour at this year's event.
Gallery