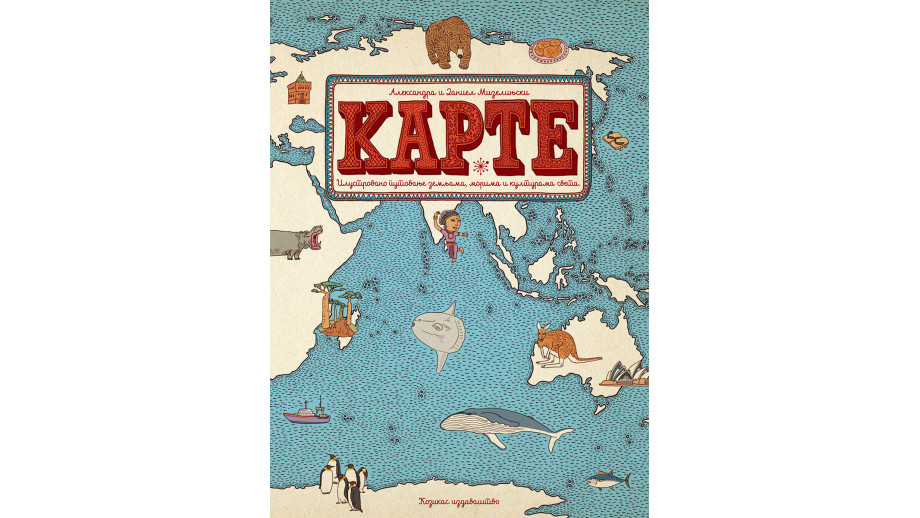 The Book Institute supported the Serbian translation of "Mapy" by Aleksandra and Daniel Mizielinski
A translation of Mapy ("Maps") has been published in Serbia. The book was translated by Anna Swędzioł. Publication of the book by Aleksandra and Daniel Mizieliński was supported by the Book Institute as part of the ©POLAND Translation Programme.
The book Карте, as reads the Serbian title of the translation, was published by the Kozikas publishing house in Novi Sad.
Maps is a worldwide bestseller translated into dozens of languages. This book takes readers on an extraordinary journey around the world. We watch geysers in Iceland, caravans of camels in the Egyptian desert, and the ancient cities of the Mayans in Mexico. We play cricket in England, practice yoga in India, and taste hundred-year-old eggs in China. In Australia, we marvel at a platypus, in Finland – at the polar night, and in Madagascar - at a huge baobab. We explore the most interesting corners of the world and admire its diversity.
There are fifty-one very large maps guiding the reader through forty-two countries and six continents. On each of the map, you will find countless illustrations, details, and interesting fun facts that will transport you to unique places and make you want to learn even more.