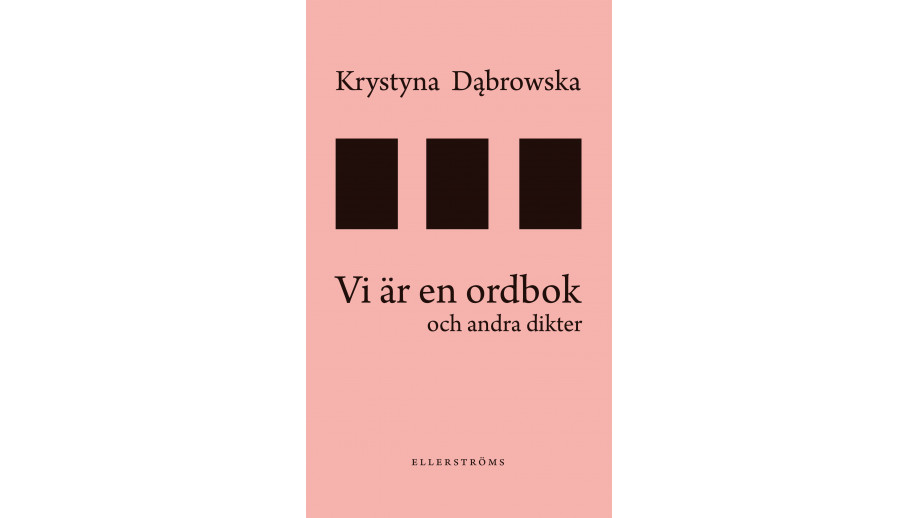 The Book Institute supported the publication of a selection of Krystyna Dąbrowska's poems
A selection of Krystyna Dąbrowska's poems has been published in Sweden. The publication of the volume translated by Irena Grönberg has been supported by the Book Institute as part of the ©Poland Translation Programme.
The collection Vi är en ordbok och andra dikter was published by the ellerströms förlag publishing house in Malmö.
Krystyna Dąbrowska graduated from the Graphic Design Department at the Academy of Fine Arts in Warsaw. Her poems have been published in "Kwartalnik Artystyczny", "Gazeta Wyborcza", "Dwutygodnik", "Odra", and "Twórczość", to name a few. She has translated poems by William Carlos Williams, W.B. Yeats, Thomas Hardy, Thom Gunn, Charles Simic, Kim Moore, as well as letters by Elizabeth Bishop and Robert Lowell.
In 2006, she published her first volume of poetry, Biuro podróży ("The Travel Agency"), for which she was awarded third prize in the 3rd Polish Literary Competition "Złoty Środek Poezji" 2007, and in 2012, she published Białe krzesła ("White Chairs"), for which she received the Wisława Szymborska Award (jointly with Łukasz Jarosz) and the Kościelski Foundation Award in 2013. In 2019, she was nominated for the K.I. Galczynski Poetry Award - Orpheus for her volume Ścieżki dźwiękowe ("Soundtracks").
In 2019, she received the Literary Award of the Capital City of Warsaw in the poetry category for the volume Soundtracks (published by the a5 publishing house).
She contributes to, among others, Dwutygodnik.com and "Literatura na Świecie".