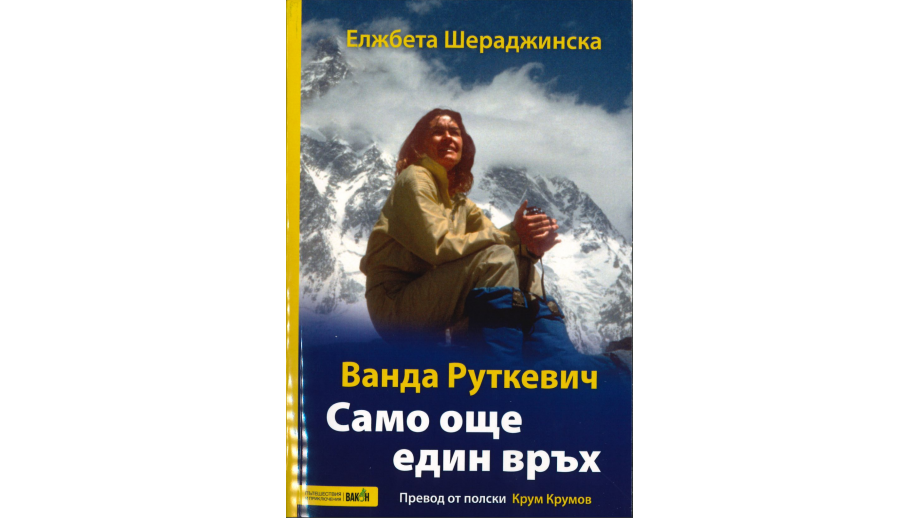 The Book Institute has supported the translation of a book about Wanda Rutkiewicz into Bulgarian
A biographical book Wanda Rutkiewicz. Jeszcze tylko jeden szczyt ("Wanda Rutkiewicz. Just One More Peak") by Elżbieta Sieradzińska, translated by Krum Krumov, has just been published in Bulgaria. The publication was supported by the Book Institute as part of the ©POLAND Translation Programme.
"Ванда Руткевич. Само още един връх", as reads the Bulgarian title of the book, was published by Sofia-based Vakon Publishing House.
In her book on Wanda Rutkiewicz, Elżbieta Sieradzińska does not limit herself to interviews with Polish mountaineers. The author also draws on previously unknown sources, including surviving excerpts from the memoirs of the mountaineer's mother, Maria Blaszkiewicz. She also quotes unknown and previously unpublished excerpts from the accounts of the participants of the Dutch expedition who supported the Pole during the tragic events on Broad Peak in 1991, events that could have had an impact on Wanda Rutkiewicz's mental condition and the decisions she made in the last years of her life.
The author of the book, Elżbieta Sieradzińska, is a Romance scholar, translator from French, a long-time employee of the Mińsk Mazowiecki Municipal Public Library, and its director from 2014 to 2020. In addition to her book on Wanda Rutkiewicz, she has also written the biographical book Cesaria Evora and Wrócimy po was. Historie alpejskie ("We Will Come Back for You. Alpine Stories'. Sieradzińska was awarded the bronze Medal for Merit to Culture Gloria Artis (2006), as well as the Golden Cross of Merit (2015).