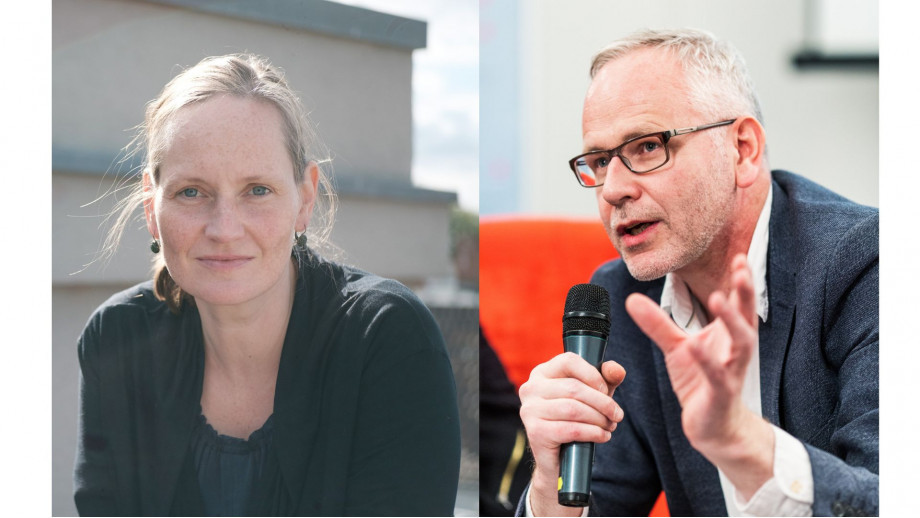 The Albrecht Lempp Scholarship for 2023 awarded to Dariusz Sośnicki and Antje Ritter-Miller
The Foundation for Polish-German Cooperation, the Book Institute, and the Literarisches Colloquium Berlin announce the winners of the Albrecht Lempp Scholarship for 2023:
Dariusz Sośnicki
Born in 1969 in Kalisz. Poet, editor, essayist, and translator. He graduated in the field of philosophy from the Adam Mickiewicz University in Poznań. He has headed the Polish prose department at the W.A.B. publishing house, was editor-in-chief of the Ossolineum publishing house, and currently works at the Filtry publishing house. He has published eleven of his own books of poetry and two books of translation. His poems and essays on literature have appeared in many journals and anthologies, also translated into foreign languages, including Tygodnik Powszechny, The New Yorker, Harvard Review, Sinn und Form, Schreibheft, Lichtungen, and The Continental. In Romania and the United States, selections of his poems have been published in a book format. He is a regular contributor to 'Dwutygodnik' and 'Czas Kultury' magazines. He has been nominated for numerous awards and prizes for his literary work and has received numerous awards.
Antje Ritter-Miller
Born in 1975, she studied Polish philology, philosophy, East European studies, and German philology in Berlin, Warsaw, and Wrocław. Since 2006, she has been a publisher (Vliegen Verlag) and editor (including editor-in-chief of the Polenplus magazine, awarded the Viadrina Prize), but, above all, translator of Polish literature into German. She has translated books by Sylwia Chutnik, Artur Domosławski, and Stanisław Grzesiuk, to name a few. In Krakow, she will continue her work on the translation of Jacek Dukaj's novel Lód ("Ice") into German.
The Albrecht Lempp Scholarship is intended for writers from Poland and Germany as well as for German translators of Polish literature and Polish translators of German-language literature.
Its aim is to cultivate the art of translation and writing in the spirit of literary and translation standards close to Albrecht Lempp as well as to commemorate his contribution to the German-Polish literary exchange.
The scholarship programme consists of two one-month stays in the neighbouring country each year: at Literarisches Colloquium Berlin and the Book Institute in Krakow.
There were 41 submissions from writers and translators of literature from Poland and Germany. The jury consisted of representatives of the founders: Jürgen Jakob Becker (LCB), Joanna Czudec (FGPC), and Łucja Gawkowska (BI). The honorary member of the jury was Elżbieta Lempp.
***
Albrecht Lempp (1953-2012)
Albrecht Lempp was an outstanding populariser and translator of Polish literature in Germany. For many years, he was the director of the Foundation for Polish-German Cooperation and made a great contribution to the development of Polish-German relations. He laid the foundations for a modern system of promoting Poland through literature. As a co-founder of the Book Institute, he received the Transatlantyk Award granted for merits in this field.
Contact for the Albrecht Lempp Scholarship
Fundacja Współpracy Polsko-Niemieckiej (Foundation for Polish-German Cooperation)
ul. Zielna 37
00-108 Warsaw
Contact: Joanna Czudec, joanna.czudec@fwpn.org.pl, tel. +48 22 338 62 65
Instytut Książki (The Book Institute)
ul. Zygmunta Wróblewskiego 6
31-148 Krakow
Contact: Łucja Gawkowska, l.gawkowska@instytutksiazki.pl, tel. tel.: +48 601 405 900
Literarisches Colloquium Berlin
Am Sandwerder 5
D-14109 Berlin
Contact: Jürgen Jakob Becker, becker@lcb.de, Tel. +49 30 816 99 625