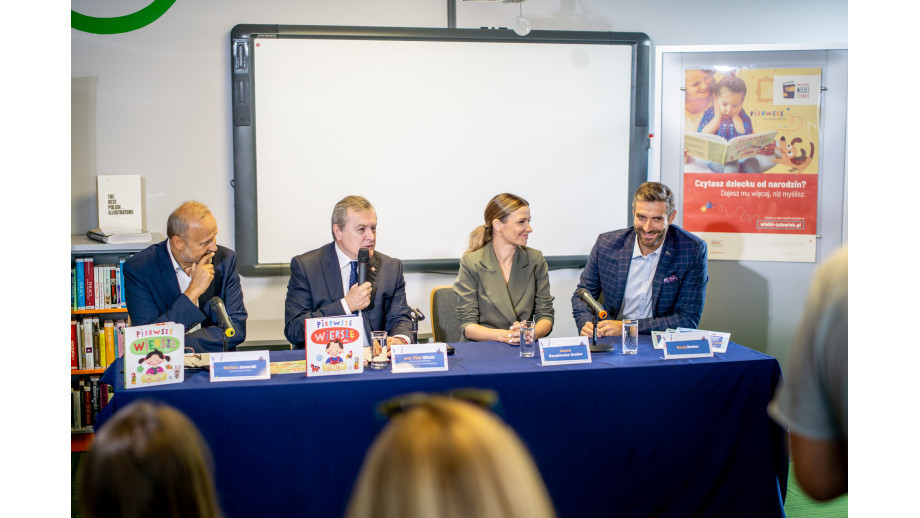 Professor Piotr Gliński: 'Societies become civilised by reading'. Report from the press conference devoted to the campaign 'Small Book - Great Man'
Today, in the Multimedia Library for Children and Youth no. XXXI in Warsaw, a press conference devoted to the new edition of the Polish Book Institute's campaign 'Small Book - Great Man' took place. The conference was attended by Professor Piotr Gliński, the Deputy Prime Minister and Minister of Culture and National Heritage, Dariusz Jaworski, the Director of the Polish Book Institute, as well as the ambassadors of the campaign: Joanna Koroniewska-Dowbor and Maciej Dowbor. Everyone emphasised the benefits of reading together with children, expressing the hope that such a wide campaign will contribute to the improvement of reading in Poland.
Guests and journalists were welcomed to the conference by the spokesman for the Book Institute, Łukasz Jarocki. Afterwards, the Minister of Culture and National Heritage, Piotr Gliński, took the floor:
'Societies become civilised by reading. Reading shapes our abilities and cognitive traits and shapes our emotional approach to moral issues. Reading is the basis for the cultural development of every society. In Poland, the reading rates are not very optimistic. 9% of Poles are avid readers. It is our ambition and a common task to make more of them read. This process has to be initiated from a very young age. Since last year, we have been passionately running a campaign called 'Small Book - Great Man'. It is carried out in order to lower the barrier of accessibility to books for the youngest. A total of 530,000 copies of the book Pierwsze wiersze dla… ('First Poems for...') prepared by the Book Institute were distributed, the vast majority of which were given to children in maternity wards. We care about it not being a one-off action, we want the campaign to last all the time. The first small book in maternity wards, the second one in kindergarten, the third one, for example, in their first class. We will continue this campaign, we have secured the money in the budget for it. We are counting on librarians, nurseries, schools, but, most importantly, on parents.'
Profesor Gliński emphasised that reading together and developing a habit of reading in families is an extremely important cultural ability.
If we want to do some good for our children, they have to start with the basics, which introduce them to the world of beauty, ethics, and interaction with others,
– he added.
After Minister Gliński's speech, the Director of the Book Institute, Dariusz Jaworski, held the floor:
The Book Institute, as a national cultural institution, is carrying out a startbook project that nobody in Europe has done on such a scale. We are duplicating certain models, for example British ones, but others are already looking at us with some envy. They want to follow our lead, for example the Czechs. We are expanding our activity. We stopped looking at reality reactively, we look at it creatively.
As the Director of the Institute noted, campaigning and reading 'constitutes one of the ways to fight for certain values that emanate from reading. It is part of an organic work. We started with a book for children aged 0-3 years, which we have been distributing since last year. 95% of hospitals received First poems for... In June, we started the next stage thanks to money from the Ministry of Culture and National Heritage: we will have distributed 360,000 books by mid-2019. At the moment, we have also started preparations for the publication of another book for children aged 4-6 years. Next year, we will be working on a book for children of early school age. Our actions are accompanied by a media campaign. This campaign is supposed to be like a perpetual motion for the mobilisation of the reading community.'
Director Jaworski also introduced the second part of the campaign 'Little book - Great Man'".
We have prepared 70,000 readers' layettes for kindergarten. They will be given to children who, with their parents or guardians, will come to a library, or rather to one of the 3000 libraries throughout the country. They will receive a book, a brochure addressed to parents about the benefits of reading to children, and a reading card on which they will collect stickers. After having collected ten stickers, the children will receive certificates.
The ambassadors of the campaign also made an important contribution to the discussion. Joanna Koroniewska-Dowbor confessed:
We are asked to participate in campaigns very often. It is for the first time that we decided to do it without hesitation, without getting to know any details. This subject is very close to us. The important thing is how it starts.
She also talked about her beginnings with books and the role of reading in creating a bond with a child:
'My childhood had its ups and downs, it wasn't always easy with the family budget, but books were a diversion. I remember all the protagonists whose lives I lived. I would like to teach children about the kind of life that we were closer to. I am not against innovation, you cannot limit children in any way, but books are absolutely fundamental to children's lives. I am even talking about our seven-month-old daughter. Today, our older daughter helps out with reading to the younger one, but we also read together. I believe that reading to a child is building an incredible bond, and most often, we don't have time to build it during the day.'
Maciej Dowbor added,
'Reading books is something on which our humanity is built. I come from a home where books were always read. Reading to a small child is a fantastic thing, nothing builds relationships like this. I myself am the person to whom my grandfather read. He enthused me with literature and built a fantastic relationship. The book forces you to extend your imagination. Nothing creates our consciousness and critical thinking like a book. It is an anchor of freedom.
The conference ended with a presentation of a TV advertising spot promoting the Little Book - Great Man campaign. The spot can be seen here:
After the conference, Joanna Koroniewska-Dowbor and Maciej Dowbor read the book First poems for... to preschoolers and talked to them about the benefits of reading.