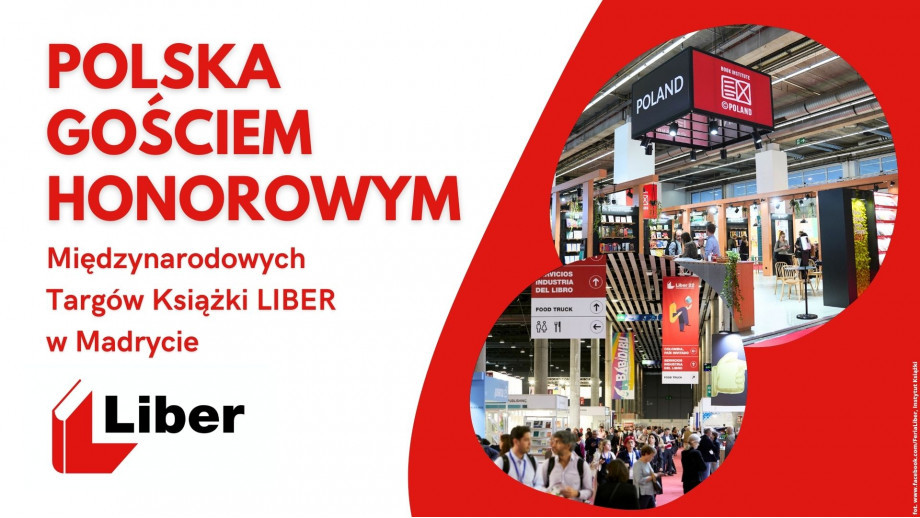 Poland to be the Guest of Honour at the LIBER International Book Fair in Madrid
The LIBER International Book Fair, the most important event for the publishing industry in Spain and the Spanish-speaking part of Latin America, will take place in Madrid from 4-6 October. Poland will play a special role this year and will be the Guest of Honour. The national stand will showcase more than 20 Polish exhibitors from the industry. In addition to the presentation of works by Polish authors, the programme will include cultural events as well as industry meetings and debates devoted to, among other things, reading programmes and new phenomena in the book market. The Polish presentation is organised by the Book Institute in collaboration with the Polish Institute in Madrid.
The LIBER Book Fair is the most important event of its kind in Spain. They are held alternately in Barcelona and Madrid every year. The event brings together publishers, literary agents, and other participants in the Spanish-language publishing market.
As Guest of Honour, the aim is to strengthen the presence of Polish literature in Spain. It is also an excellent opportunity to establish new contacts in the Latin American market. It is worth noting that it is usually Latin American countries that are the guest of honour at LIBER, so the choice of Poland is a huge distinction.
More than twenty Polish exhibitors will showcase their offering at the Polish stand of 120m2. It will also be a space for discussions with both publishers and representatives of the Book Institute. The programme will include an industry section - presentations and debates that will provide an opportunity to share experiences with representatives of the Spanish and Hispanic book market. Issues relating to the development of children's literature, reading programmes, or new technologies in the book market will also be an important part of the event. Accompanying events will also be organised in collaboration with the Polish Institute in Madrid, allowing participants to learn about Poland's rich cultural offerings, including those outside of literature.
Participation as a Guest of Honour at LIBER fair is part of a strategy of reinforcing presence in foreign markets as part of a three-year cycle. Last year, the Book Institute took an active part in the Barcelona Fair, while further initiatives to consolidate the presence of Polish literature in Spain are planned for 2024.
This year, the Book Institute will also take an active part in another major event in the Spanish-speaking world - the International Book Fair in Guadalajara, Mexico, where the European Union will be the Guest of Honour.
***
The project is co-financed by the Ministry of Culture and National Heritage.