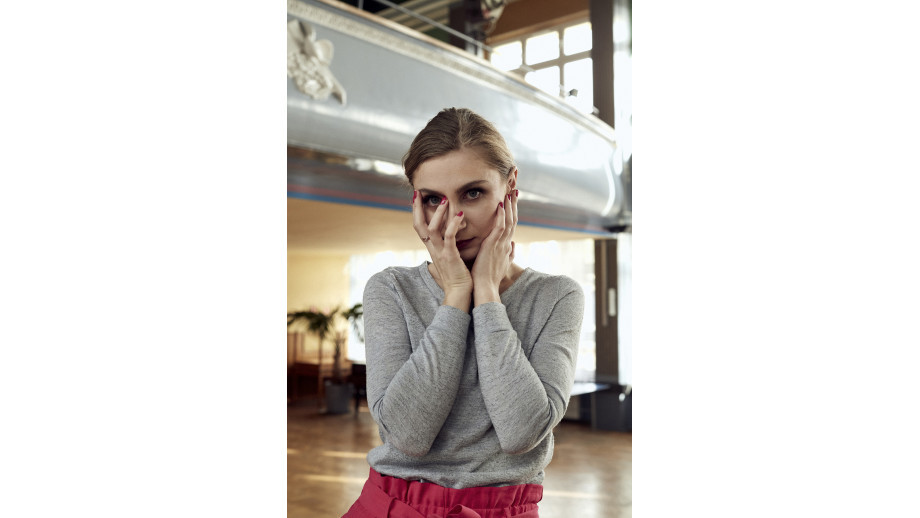 Beside table #29. Aleksandra Zielińska: I don't like books which are supposed to be gripping by definition
The prose writer Aleksandra Zielińska talks about her distrust towards the Polish School of Reportage, the problem of book labelling, and what she is looking for in prose.
What are you currently reading?
Right now? At the moment, my Kindle is full of texts from the Gdynia Drama Award, so I read mostly dramas.
Why this choice? Are you thinking about writing dramas?
I'd love to! When I finished my last novel, Sorge, I thought I'd like to try something else with language, and I think drama is a good space to experiment.
It is very interesting because another young prose writer, Weronika Murek, has recently published a collection of plays, well received.
Yeah, it's a pretty funny coincidence. I am lucky that there are many possibilities to attend drama workshops in Cracow. As soon as something like that appears, I try to squeeze myself in. Recently, there were workshops held at the Teatr Stary, and, from what was created during it, there will ultimately be an anthology. I also received a grant from the city to write a drama, so maybe something will come out of it, or, at least, it is certainly becoming more and more real. We'll see, at the moment, it's a great fun for me. I will do it for the sake of pleasure and new experience.
Since you mentioned reading on a Kindle, what do you reach for more often: e-reader or paper?
That depends. If I go away, I take an e-reader. I never know what I would like to read, so when I'm going somewhere for longer, I wouldn't fit all the books I'd like to take into my rucksack. A Kindle is very convenient in these situations. But in total, it's probably half and half, because I have plenty of paper books at home, and sometimes, I don't even know what to do with them anymore.
Have you been delighted with anything from prose lately?
I have recently got a new David Foster Wallace, namely The Pale King. I want to get down to it soon, and I suspect it will delight me; and recently, I have read a novel The Unseen by the Norwegian writer Roy Jacobsen, which was published by Poznańskie publishing house in a refreshed series of Scandinavian Writers' Works. It is a book about a family living on one of the Scandinavian islands, a novel, but actually, in the form of micro-stories. It's such a tiny, well-written book! I liked it very much - both linguistically and because nothing special happens there. Jacobsen describes everyday life in a place cut off from the world, because there is only one family living on this island. And we read about such small dramas: one time someone dies, another time a storm comes, or something eats the fish. In this intimacy and apparent equilibrium, it makes an incredible impression!
What else is there on my reader? So: Bieńczyk's Kontener ("Container"), very close to my heart because of its subject matter, just started Wanderlust: A History of Walking by Rebecca Solnit, which I might even finish reading on the train today, I also have Potop ("Deluge") by Salcia Hałas, as well as a reportage about women from small towns in the Mazovian Voivodeship, which I am very interested in, namely A co wyście myślały? ("What Did You Think?"). I must admit that I am very interested in looking at the world of these women. I assume that the village in the Sandomierz region, where I come from, is very different from the Mazovian region, so I would like to confront my experiences with what it looks like in another part of Poland.
What are you looking for in the prose you read?
Different things, but surely something that will attract my attention with little details. I don't like thrillers, crime fiction, books which are supposed to be gripping by definition, because they are constructed in such a way. I like books about small things, about ordinary life, in a word - books that are close to me. Of course, I also very much appreciate things in which something interesting happens linguistically - I always feel that when it happens, I learn something new myself. These are probably two of the most important things for me: a small everyday life and language. When I think of myself as a creator, these are the things I would like to combine, to write somehow in a modest way, but at the same time to intrigue with language.
Apart from that, I try to jump genre-wise, not to divide and not to label things, as in when it's fantasy - I don't read it. There are interesting things everywhere, I'm really waiting for a new Dukaj. I wonder what he fabricated after all these years. There were supposed to be essays published at Wydawnictwo Literackie. After such a long break, people forgot that he exists.
He published a novel in cooperation with Allegro, but nobody read it!
Starość aksolotla ('The Old Axolotl'). I read it, but it wasn't good, unfortunately.
And what do you reach more often for: prose or non-fiction?
Definitely prose! I rarely read non-fiction. In recent years, I have been most impressed by an older reportage by Wiesław Łuka, reissued years later, Nie oświadczam się ("I Am Not Proposing"). It was a great book, also in terms of language, and moreover, it concerned events that took place in my area. I also saw a performance by Agata Duda-Gracz inspired by the book by Łuka – excellent as well. It seems to me that this is very faithful reportage, although, of course, I am not able to state it from a position of authority. But something else was also important to me: when I was reading, I had the impression that in this book, it was not the author who was important but the people who spoke.
I understand you are not a fan of reportage from the Polish School of Reportage.
It may not sound good, but I must admit that I do not trust the Polish School of Reportage.
So, in non-fiction, what matters to you is facts?
Yes!
Let's go back to your childhood now. What kind of reader were you then? What do you have left in your memory from those books?
Definitely a very voracious one. I grew up in the countryside where nothing really happens, there are 60 houses and 250 people. Everybody knows each other, and winter is really boring. There were a lot of books in my house. Mum liked reading very much, and, to be honest, I reached for what she had on the shelves. I also used to go to the library. I am very grateful for the good fortune that we had a small library in the village, quite well stocked, in which there was a lot of classics. But one of the first important books for me were horrors and fantasy, because somehow it happened that I quickly came across Stephen King and Andrzej Sapkowski. I read a lot of that kind of stuff when I was a young girl. Anyway, it's closely related to my first writing attempts, because I started with horror and fantasy, in a broad sense. Later, it changed quite a lot, I have a slightly different taste, but my fondness for King remained, and sometimes, I happen to return to him, although I have to admit that we haven't met for a few years now, and today, it would certainly be something completely different than at the age of fifteen.
Have you had any readings that shaped you?
I remember that at the age of nine or ten, I wanted to read King's 'Salem's Lot, but the librarian didn't want to lend it to me. Then, of course, I managed to trick her and finally read the book. I still have in my mind the memory of an old, decrepit edition with the author's name inscribed with capital letters that were shimmering, were raised, and, at the bottom, they had little vampire heads.
Yet when it comes to books that would leave a trace in me or change me, I can only think of such things that I read quite late, more or less when I was writing my second book, Bura i szał ("Bura and Rage"). That's when I came across more serious stories; that's when I really started to read Iwaszkiewicz consciously, who made a great impression on me. The second such important author, whom I got to know more closely at that time, was Wiesław Myśliwski, a linguistically unbelievable writer, who also touched on the peri-rural topics. I read him at a time in my life when I started to miss the countryside. I had been living in Cracow for some years then, and, at the beginning, I became enchanted by this city, because suddenly it turned out that it's close to everywhere, that I have a cinema, that I have a theatre, that I don't have to go to a shop by car as I have it just round the corner. But there came a moment when I started to miss peace and quiet, as well as the past. And this Myśliwski fit in well with it. Then came David Foster Wallace - it was the second strong linguistic stimulus for me. I bought myself Brief Interviews with Hideous Men on a whim. A friend recommended this book to me. From the very beginning, from the very first contact, I knew that this prose was very close to me, both in terms of subject matter and language. Then, I started reading about the author himself and - as strange as it sounds, because we all know that his life was difficult - I also felt close to him. Then, I listened to probably all the interviews with him that can be found on YouTube.
And the books of these three writers were probably the most important readings for me. At this point, I can't think of anything from my high school and college years.
Is there any writer you'd like to meet?
It's a bit problematic, because it happened that I wanted to meet someone and talk to them, and when it happened, the spell was broken a little. In my youth, I liked Jacek Dukaj's books a lot, and I still value them, but when we got to know each other, the image didn't match reality. I prefer to get to know writers through books, not in person, and I prefer to separate them from each other.
What are your reading plans?
I'll definitely read The Pale King, because I've been waiting for this premiere for a long time, but I've just had the premiere of my own book, so I'll give myself a bit more time when I have some peace and quiet, and I will be able to sit down with full concentration. Seven or eight hundred pages about boredom in the tax system sounds like an adventure.
Interviewer: Krzysztof Cieślik (the interview was published in "Nowe Książki" monthly)
Translated by Justyna Lowe