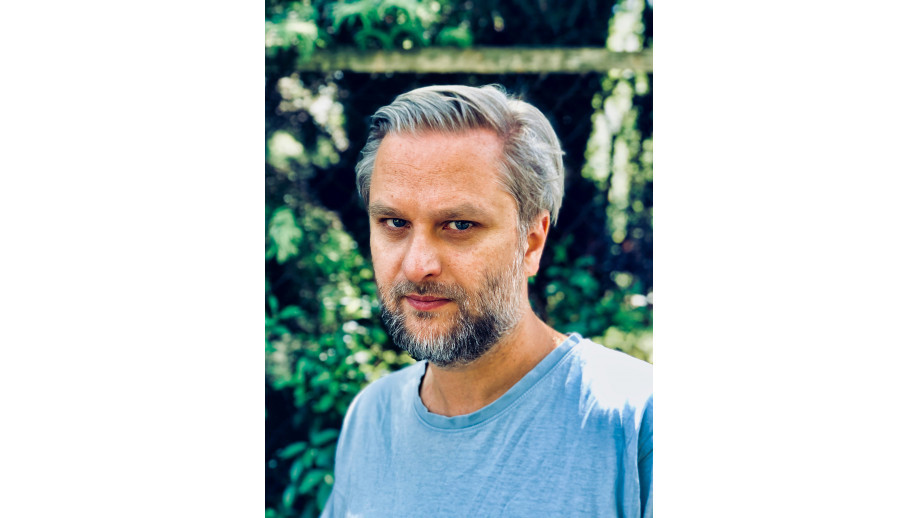 Bedside table #89. Wojtek Wawszczyk: Traditional literature is not enough for me
Wojtek Wawszczyk is a scriptwriter, cartoonist, author of such comics as the excellent Pan Żarówka ("Mr. LightBulb") and the recently released Fungae, as well as a director and animation creator. He is also the first comic creator we have spoken to as part of our "Bedside table" series. Hence, we decided to take the opportunity to discuss mainly graphic literature.
Last year, Mr. Lightbulb was published in English by the legendary American publishing house Fantagraphics. This is the first comic book from our part of Europe ever published by this publishing house. How did this happen?
In a rather unconventional way. From the beginning, my publisher Szymon Holcman from Kultura Gniewu publishing house has tried to promote Mr. LightBulb at comic fairs and festivals. For example, he visited the Angoulême festival with the book. However, the breakthrough came when I translated two chapters of Mr. LightBulb into English and printed a dozen copies of a kind of booklet and sent it to foreign publishers. The response from Fantagraphics came after just one week - they wrote that they were interested. Of all the publishers I sent a proposal to, Fantagraphics was my first choice! I grew up reading their comics.
Did you expect that your comic could make it to one of the most important publishers in the United States?
I wouldn't say I expected this, but I was thinking of recipients outside Poland. It is no coincidence that I chose the form of a fairy tale for Mr. Lightbulb. From the start, it was intended to be both a very intimate and universal story.
You said you grew up reading Fantagraphics comics. How is that possible given that they were not available in Poland when you were a teenager?
I became acquainted with these comics a little later, while on a scholarship abroad. I studied animation at the National Film School in Łódź but spent a year and a half at the Filmakademie Baden-Wuerttemberg in Ludwigsburg. It's a very good German school of computer animation. It was the turn of the 1990s and 2000s. I had no money, in fact, just like probably everyone else at the time. Nor did I have the money to rent a flat in Germany. So, during my scholarship in Ludwigsburg, I used to crash for a few weeks at a time in student accommodation rented by fellow students. At one point, I was staying in a room rented by Jakob Schuh, now an excellent animation director, twice nominated for an Oscar for his short animation films. Jakob had a huge collection of comics, and as I had always been fascinated by comics, I used to read them at night when living with him. It was then that I became familiar with the work of Chris Ware, Robert Crumb, Daniel Clowes, or Dave Cooper. The most important thing I came across then was Chris Ware's 'Jimmy Corrigan, the Smartest Kid on Earth. I remember that when I read this comic, I genuinely couldn't fall asleep - it resonated in me so much. Even today, many people think that comics are just Donald Duck, Superman, and Marvel. I, for one, already had hard evidence in my hands that this was not the case at all - that comics could be so much more.
What do you mean?
Letters are graphic signs, which are actually drawings, aren't they? Comics use these graphic signs, just as traditional books do, but, in addition, they also use a whole spectrum of other signs that represent reality or are abstract. We're sat in a café drinking coffee, so I'll use that as an example: imagine going to a café and instead of having your coffee brewed, you're given beans that you have to chew yourself. That's more or less what traditional literature is to me, written solely with letters. In my opinion, it is only by adding drawings that the reading experience becomes complete. Traditional literature is not enough for me!
Robert Crumb, whom you mentioned, followed by a number of other authors, has long since proved that comics are excellent for telling very honest, autobiographical stories. Your Mr. Lightbulb also fits into this tradition. Why do you think comics work so well for autobiographical work?
Telling the story of one's life with words alone is too often limited to talking about facts. Meanwhile, comics can have a great deal of poetry in them. By using just one word - or even manifesting its absence but adding an image - you can express really deep emotions in a synthetic way. This is why the comic book is an excellent tool for creating spiritual autobiographies.
You drew your first comics when you were just a young boy, which means you must have read them too. There weren't many of them in Poland then, were there?
I don't know why, even at a few years old, comics captured me more than traditional books. Of course, a lot of kids read comics back then, but it didn't stay with everyone forever, like it did with me. I read everything that was there. I would cut out the last pages from Świat Młodych magazine and glue them together with tape, creating my own albums. I read Kajko i Kokosz ("Kayko and Kokosh"), Kapitan Kloss, and Tytus, Romek i A'Tomek ("Tytus, Romek and A'Tomek"). But above all, I have always loved the work of Tadzio Baranowski - his works are, in my opinion, the only comics from that period that have not aged.
Today, you are working on an animated film based on Baranowski's comics.
Moreover, we are slowly approaching the end of this production. The film, animated of course, will be called Diplodok ("Diplodocus"). I probably wouldn't have made it if I hadn't fallen unconditionally in love with Baranowski's work as a child. His comics have always been absolutely bonkers, Monty Python-like - real acid for kids!
It's not going to be an ordinary adaptation of one of Baranowski's comics, is it?
I picked up two of his comics from the 1980s that feature the same characters – Antresolka profesorka Nerwosolka ("Professor Nervosol's Entresol") and Podróż smokiem Diplodokiem ("Diplodocus Dragon Journey"). However, I wrote the script for the film completely from scratch. For me, these titles are more of a treasure trove of humour, narrative and visual solutions. This is to be not so much an adaptation as a film imbued with the spirit of Baranowski. The man himself says it has been successful - when we showed Tadeusz what we had done so far, he said that 'it's not the same as the comics, but Baranowski pours out of every square centimetre'. It was Tadeusz's work that awakened the cartoonist in me - I started by redrawing his comics through baking paper, as if through tracing paper. My ambition is to make a film that will have the same effect on today's kids as Baranowski's comics had on me in the 1980s. And not just for kids in Poland - the film is being made in English in a Polish-Czech co-production.
In the 1980s, there weren't many comic books in Poland, but after the system transformation, they quickly arrived, as stories about superheroes appeared in the newsagents. Did you read them?
Of course I did. We were all starved then, we bought everything. It was the same thing with comics as it was with bananas and everything else that wasn't there before. In 1990, I bought the first 'Spiderman' that was published in Poland. I remember that it was not so much translated as localised - for example, instead of the "Daily Bugle", the newspaper where Peter Parker worked, I think the Polish edition had the "Kurier Krakowski" (laughs). Of the superheroes, I liked Batman the most, because, first and foremost, he was a badly battered type who had issues with his own self, rather than an all-powerful saviour of the world. Nowadays, I find it very difficult to read superhero comics. They bore me to death.
Currently, there has been no shortage of comics on the Polish market for a long time. What comics by Polish authors do you most recommend?
There is a wonderful comic by Tomasz Grządziela called Przygody Stasia i Złej Nogi ("The Adventures of Stasio and Bad Leg'"). An excellent comic is Będziesz smażyć się w piekle ("'You Will Burn in Hell") by Krzysztof 'Prosiak' Owedyk. Certainly, very important, both for me and for Polish comics in general, is the series Jeż Jerzy ("George the Hedgehog") by Rafał Skarżycki and Tomek Lew Leśniak. I also love the diary-like Na szybko spisane ("Jotted Down Quickly") by Michał "Śledź" Śledziński. Also, Achtung Zelig! by Krzysztof Gawronkiewicz and Krystian Rosenberg, Łauma by Karol Kalinowski, Totalnie nie nostalgia ("Totally Not Nostalgia") by Wanda Hagedorn and Jacek Frąś... I could go on for a long time.
A book is a universal gift idea. I take it you gift your loved ones primarily comic books?
Oh yes, very often. Too many adults in Poland still seem to be reluctant about picking up a comic book. They associate picture stories with something inferior, less serious - that's complete nonsense. I believe that everyone, without exception, should know the comics of Moebius or Alejandro Jodorowsky! In addition, there are Dave Cooper, Daniel Clowes, whom I have already mentioned, or even the excellent Charles Burns. Chris Ware's comics still have not been translated into Polish, but I hope we will finally see it happen. Then there's the amazing Joe Sacco and his comic war reports. There is something suitable for everyone. The reason I recommend comic books to people is not that I necessarily want to win them over to what I do myself. I simply believe that comics by the listed creators are objectively superb.
What was your inspiration for Fungae, your latest comic book, which you created together with Tomasz Lew Leśniak?
In terms of story dynamics, I most looked to Jason, the creator of such comics as I Killed Adolf Hitler, The Left Bank Gang, and Pssst!. The most important point of reference for me, however, was the Polish school of animation and films such as Stefan Schabenbeck's "Schody" ("Stairs"). In "Stairs," the whole plot involves a nameless and faceless protagonist climbing to the top of the stairs only to end up turning into another step themselves. And yet, despite this plot simplicity, the film is very impressive, especially when viewed for the first time. It is this type of imagery that the Polish school of animation has become famous for. In creating Fungae, I wanted to challenge myself to transfer a similar metaphorical style to the medium of comics. Tom and I wanted the reader to be able to sink into this world, for this comic to wrap around them. I think that thanks to Tom's mesmerizing illustrations we were able to achieve this.
Let's leave comics and move on to books composed of letters themselves. What readings were important to you as a creator?
Certainly surrealism, especially Czech. I'm originally from Cieszyn, so maybe that's also why Czech artists have always been close to me. As for films, I love Miloš Macourk, Václav Vorlíček and their Arabela, and the films of Jan Švankmajer. As for books - primarily Ota Pavel and Karel Čapek. All these Czech artists told bittersweet stories, sought magic in the ordinary, but were also very honest - they ripped their stories from the bottom of their souls. When I was at university, I was also very much influenced by the work of Piotr Dumała. Later, it turned out that I found similar things precisely in comics by authors published by Fantagraphics, such as Dave Cooper or Jason. I know that in answering the question, I'm mixing literary, comic book, and film work, but it all affects me equally. Maybe it's because I'm a filmmaker, cartoonist, and screenwriter myself.
In one of the interviews, you seemed very pleased that Mr. Lightbulb was compared to the work of Franz Kafka. Is this another creator important to you?
Very important. Perhaps a bit of a stretch, but I also count him among the Czech surrealists. The Kafkaesque spirit, which I think is also present in Karel Čapek, is very close to me. Speaking of the "Kafkaesque spirit," I am referring primarily to situations that initially seem ordinary, but suddenly begin to lead to the feeling that the whole world turns out to be the enemy. Kafka created literature driven by inner fears, and after all, I did something similar in Mr. Lightbulb. It was very difficult for me to write this comic - after all, I was talking about my parents' illness, how it affected me and shaped me... I just try to make the endings of my works a little more optimistic than Kafka's (laughs). Maybe a little desperately, but I try to look for meaning in the events I describe.
Who else would you add to the list of your literary favourites?
Of the more recent discoveries, certainly George Saunders, especially for Lincoln in the Bardo. I have also consistently been a fan of Roald Dahl over the years. He's a creator of children's literature, but I sense a kind of subtle melancholy in him that affects me a lot.
At some point, you animated Kamil Polak's film Świteź ("The Lost Town of Switez") based on one of Adam Mickiewicz's ballads. How do you recall the encounter with a classic of Polish literature?
Let me start by saying that, in my opinion, the education system is hurting us with literature. Or is it that we, reading all these classic works as required reading, are at such an age that we reject everything by principle? Meanwhile, almost every time I returned to the school classics years later, it turned out to be great. It wasn't until many years later that I discovered for myself The Master and Margarita, Lalka ("The Doll"), and all of Boleslaw Prus in general. It was the same case with Mickiewicz. I had the worst possible associations with him, because when his poetry was recited at school, we had to stand at attention. I didn't understand why Kamil wanted to take on the adaptation of Świteź, but he said, "Man, just read it! Reject everything you think and just read it. You've got the horror, the suspense, the atmosphere - let's bring it to the screen without words!" A phenomenal film came out of it, and I say that not only because we devoted several years to it.
And what are you reading now?
Two reportage books: Everything Now: Lessons from the City-State of Los Angeles by Rosecrans Baldwin and A Fortune-teller Told Me by Tiziano Terzani. Besides, as usual, a lot of comics. I recently finished Rutu Modan's excellent Tunnels. With new releases, I return to the series about "Kayko and Kokosh" and wade through comics by Junji Itō - he's a Japanese comic book artist who draws surreal, disturbing body horror stories. Also awaiting their turn is Barry Windsor-Smith's acclaimed Monsters, a hefty album that was released in Poland last year.
You have two children - do you read to them?
I really enjoy reading to them! And they, as children do, are most likely to return to books they already know, mostly from the canon of children's literature. However, there is something they like even more - when reading to them, I make things up, modify, and tell the stories in my own way. I do so, for example, with books about Tip the Mouse. I put a twist to these cute stories, sometimes even in a rather worrisome way, and Kalinka, my five-year-old daughter, laughs while I do it. With ten-year-old Gucio, we've been reading Roald Dahl the most lately, and he likes Asterix comics. Besides, with Kalinka and Gucio, we not only read, but also create - invent, write, and draw. Literature that my children write is just another thing on my bedside table.
Interviewer: Radosław Pulkowski
Translated by Justyna Lowe