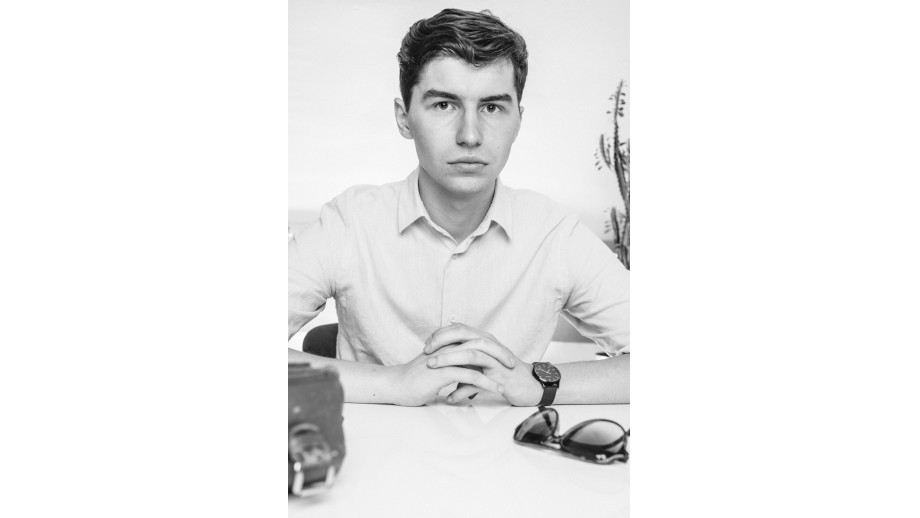 Bedside table #78. Łukasz Barys: I want to write books that won't be a seasonal fad
Łukasz Barys, prose writer and poet, winner of the 'Polityka' Passport Award for his debut novel Kości, które nosisz w kieszeni ("Bones You Carry in Your Pocket"), talks about his new book due to be published soon, reveals when he feels like playing shepherd, he also talks about the writers he is inspired by, hipster debuts, and his latest reading delights.
Let's start at the end, now that the successor to the Bones You Carry in Your Pocket is ready.
Yes, this end or a new beginning bears a name as bizarre as Bones… -namely Jeśli przecięto cię na pół ("If You Were Cut in Half"). I for one believe that the title should grab us by the neck or at least tickle us, do something to us. If You Were Cut in Half is a book about cutting through. The characters are cut, their bodies, their identities too. In a literal way, externally, the blood is pouring and bones crack, and not literally, i.e. internally, the soul is torn at the threads. There is a plot, there are characters, there is a depicted world, there are chickens, a cow, ghosts, and graveyards. There are all sorts of creatures. I read the comments on Bones You Carry in Your Pocket and tried to write a better, more mature book. I hope it worked out. If You Were Cut in Half is a peasant novel, a ghost book, a social novel, an environmental novel... Well, that much I can reveal. But I think it's worth the wait!
It will premiere in October at Cyranka publishing house. Can you give us a short 'sneak peak' excerpt?
Sure! I'm having trouble picking out a passage, maybe this one:
"I wake up in the morning, get dressed, put my books in my backpack, go to school. How cold and dry. November greets us with the wind, this wind cuts through the skin and muscles, knocks the leaves off the trees and moves the stones, makes your ears ache. It's not raining, though. I feel like I'm about to develop a fever. I feel so bad, so rough. My hands hurt so much. Wind blows up branches, throws them into the street. Grandma has a headache. I wonder if I might not go. Just stay at home, just like that. Or go to the fields, or behind the barn, sit with Saba on the bench for half a day, or just don't get up, stay under the duvet. Grandma muddles the weekdays up, she can distinguish Sunday from Monday and a holiday from Tuesday, but she wouldn't actually notice that I didn't go. It's there, and not here, I tell myself, and I put the books in my backpack, which are heavy and thus able to keep me in the everyday. I look in the mirror. My skin is grey in the morning, with lots of blackheads around my mouth and even a big whitish pimple on my chin that I can't squeeze out because it will leave me with a volcano."
There will be a lot there about the body, the seasons, boyhood, and a duvet. Well, get ready for it!
What kind of readings fostered your work on this book?
When I started writing, I developed a strong fascination with all kinds of social literature, that is, mainly Polish folk stories, stories about peasants, workers, thanks to which I began to think differently about myself, my life, my background, my class situation, but also in general with all literature that is not afraid to speak sharply about social relations. You can see Pobłocki in Bones..., you can see The Discomfort of Evening. In fact, I didn't read much "for the book", because the book was born out of the readings I had become familiar with earlier, which I had been imbibed with during those few years of studying and absorbing Polish literature. I may have been heavily influenced by Justyna Bargielska, as I was writing my MA thesis in parallel with the novel... Well, today I think I have more trust in myself, and I approach readings with more distance, that is, I don't imbibe myself with them as much, I'm more critical. I must admit, though, that reading Słowacki, Leśmian, or Krasiński always puts me in a bizarre, lyrical-romantic trance; I feel like running to literary meadows, writing about ghosts, oddities, trees and flowers, playing shepherd, and paying no heed to critical remarks that I should do things this way and not that way.
And thats's it? Only Pobłocki of the shortlist of the Nike Award, Rijneveld, and university readings?
I'm not sure myself... In Bones... you can generally see Polish poetry and young Polish prose as well, so perhaps I should also mention Wioletta Grzegorzewska (poems and prose books), Obsoletki ("Obsoletes"), Małe lisy ("Little Foxes"), Uprawa roślin południowych metodą Miczurina ("Growing Southern Plants the Michurin Method") by Weronika Murek, Maciej Płaza, Dorota Kotas. So-called lyrical poets: Maciej Taranek (Impresariat), Dawid Mateusz (Stacja wieży ciśnień ["Water Tower Station"]), Tomasz Pułka, and the perhaps not so lyrical but wonderful Eugeniusz Tkaczyszyn-Dycki, the patron of my cemetery search. And, of course, foreign writers without whom I would not have written Bones...: Elfriede Jelinek (Women as Lovers), Herta Müller (The Land of Green Plums), Toni Morrison (Beloved, Song of Solomon), Jesmyn Ward (Salvage the Bones). The latter was probably behind the choice of title; it really is wonderful, wonderful prose. Probably also Dorota Masłowska, Michal Witkowski (my beloved Margot). Maybe a touch of Twardoch, Żulczyk, Orbitowski. I love this book by Orbitowski about angels and teenagers - Tracę ciepło ("Losing Heat"). I don't know what to add. I try to do a lot of reading, but as you can see, these are just a trot through the world of literature - and many people will probably shrug their shoulders at these discoveries of mine. There are more books which I love, which I used to read avidly (and today I don't read avidly any more...), but I'm listing the ones from which I've moulded Bones... Should I talk about my fondness for Murakami, my love for Norwegian Wood? Today, I can't stand Murakami, I simply can't.... Although I read Killing Commendatore recently, a year ago, on holiday, and it was quite OK. In If You Were Cut in Half, a big part is played by Słowacki's Balladyna... But also the aforementioned Dycki, the spirit of his work.
About two years ago, during our private conversation, you said: I have read quite a lot of new prose, including debuts, and I have concluded that it is not that difficult, also from the technical and formal point of view, to write a prose book. Do you stand by this opinion?
I've grown humble... Today, I'll say: I don't know, I don't think so. I mean it's quite easy to write a book, it's nothing difficult, to fit in with fashion and even get some interest. But how to make history? How to be remembered for years to come? I didn't believe in myself too much when writing Bones... I was under the impression that winning the Empik Book of the Week title was the maximum accolade I could achieve. Because sure, it's nice to be a book of the week, but I'm aiming for more than that now, because I want to write books that will be read in five, ten years, still good, not just a seasonal, monthly, weekly snack. It is awards that help books not to age, that's for sure, but not only that - also readers, their interest. That's why I'm so happy when anyone comes to my author meetings, in Opole or Świnoujście, and says that they really liked what I've written. These are usually people older than me and it's always amazing, very daunting. So, back to the question - it's quite easy to write a novel, a poetry volume, or a collection of short stories, but to do it well and grow in people's stomachs, to grow from a snack into a big, juicy, literary kebab – that's difficult.
Have you eaten this kind of literary kebab lately, obviously, given your culinary preferences – a vegan one?
Ha, Ha. So, you're asking me about my recent literary delights. Well, I knew, after all, that I would have to deal with this issue. Although I can never tell what good reading I've done recently, it always escapes me. So, first, the classics (he takes his phone out, searches the camera roll...): Wonderful, Wonderful Times by Elfriede Jelinek, Zweig's Beware of Pity, Malina by Ingeborg Bachmann, Sontag's Death Kit, Carrington's The seventh horse, and other tales, The Gospel According to Jesus Christ by José Saramago, and the amazing Woolf and her Orlando. Newer titles: Gospodinow's Time Shelter, short stories by Eisenberg, Dogs of Summer by Abreu published by ArtRage, The Order of the Day (published by Wydawnictwo Literackie), and wonderful The Appointment (published by Pauza). Poems? Perhaps the translations of Variants of Catching Breath, which were published by the Łódź Literature House. Also, Justyna Kulikowska's excellent volume Gift. Z Podlasia ("Gift. From Podlasie") and wonderful works by Michał Krawczyk, a rather modest poet from Jelenia Góra, nominated for the Silesius Award, and his Ekspansja Ech ("Echo Expansion"), published by the Mikolow Institute. Highly recommended to anyone hungry for literary labyrinths! And from Polish prose, I have recently discovered Marian Pilot and Manuela Gretkowska (what a discovery, I know...), I seized Pióropusz ("Plume") and My zdies emigranty ("We're immigrants here") in an online shop. I'm probably closer to Pilot, but who knows, who knows....
Who among the latest debutants do you think deserves attention? Can we already predict the next winner of the Polityka Passport Award?
Ah, those debutants! After all, the Polityka Passport is not only an award for debutants; you can have several books to your credit and still win it. Well, in our country, we love debutants, our new, sexy books that can be sold because they are new - I understand why you're interested. I have read most of this year's debuts, I don't think I would like to comment on them perhaps, most of them have good and bad aspects, in varying proportions; I would say that the ones that have appeared so far are very much 'hipster', that is, I can't imagine that they could go beyond the literary niche. Not that I left, possibly scratched a bit of the door behind which this reader from outside the bubble stands. This hipsterism is of course not a bad thing, I personally rather dream of 'shepherding', large circulations and the possibility of writing for people not only from Warsaw, Kraków, and Wrocław, but also Marszywiec, Wygwizdów, and Sromutka or at least Sieradz, Kalisz, and Prudnik. I lost the point again, sorry. Anyway, I think the jury will find the golden thread between hipsterism and shepherding, and then they will pull that thread and award someone. And next year another person, then another person again... It's inevitable, I know. I just hope they will award people in their thirties, then I will forever be the second one, after Dorota Maslowska, I will be able to nurture my vanity. Sorry, that's a joke. But seriously, I think it's better to write when you're in your thirties or so. One has more life experience. Or perhaps the youthful frenzy is then lost, though? Krasinski made his debut at the age of sixteen "as the author of gothic tales imbued with the macabre. It was already then that the most characteristic features of Krasiński's writing became apparent: his obsession with suffering, annihilation, and death". It's from Wikipedia. It feels like I'm reading about myself.
Are you "obsessed with suffering, annihilation, and death"? Even the most enlightened reviewers and the most reputable literary critics haven't noticed this directly! Will you elaborate on this?
Ha, ha, ha. Well, because it's so lofty and pompous - suffering, annihilation, death. It's silly to write. And it is foolish to accuse the youngsters of this in 2022. Well, but that's the truth - those escapes from the grave, walking through the cemetery, the macabre on Christmas Eve, kissing a corpse on the loo - it's this obsession that I try to tame with literature. What is there to say - I wake up in the morning and I grab at my hand bone, and it amazes me so much that I have this bone, I have this hand, I have a lung in my chest, and an eye in my brain, and I can't catch my breath, and then I realise that what I have in my chest and under my skin is about to fall apart... I know it's a cliché! But I write simple literature about clichés, I'm not at all interested in complex issues. Coming back to death and suffering - I think a great many people may share with me a similar obsession - and hence, presumably, quite a lot of interest in such work...
This, unfortunately, is how it can be: deadly. But back to the point.... Can you name, let's say, five non-debut prose works you've read recently that could change your initial obsessions?
Well, well. To change, and therefore convert to the path of success, career, smiles, and well-being? All right then: Dorota Kotas's Cukry ("Sugars") allows you to feel some tenderness towards a terrible world. Maciej Płaza's Golem ("The Golem") evokes an interest in the diversity of human experience and the mysteries hidden in our culture and history. Skrawki dla Iriny ("Scraps for Irina") by Waldemar Bawołek is great prose about being a writer in the provinces (I live in Pabianice, not Ciężkowice, but I could totally relate to it while reading...), but most importantly it is a book about vitality and the need for love. Dominika Slowik's Samosiejki ("Self-seeders") is an excellent account of the exuberant and mysterious life of animals and plants. Well, see, four Polish new titles about the power of life from this and the other year. Something else. One moment. Maybe I'll leave Poland and recommend Tove Ditlevsen's The Copenhagen Trilogy, it's a must read, but unfortunately, it's again about decay, death, addiction.
Malicious reviewers have pointed out that the phenomenon of Bones... is based primarily on the clever embracing of newly fashionable topics. Any excuse? Do you notice similar practices in other prose writers? Perhaps this is some kind of - let me make a provocative simplification – hallmark of people born in the nineties?
Like I said - I'm banal, kitsch, and tacky.... I don't like 'clever' literature, I mean I do, but I write silly, ordinary, commonplace literature. Just the kind, about fashionable but still important topics. That's how I can defend myself. Although, arguably, the reviewers get some things right too. There are quite a few topics in Bones... It is all intertwined somewhere, arranged into a picture of the world of capitalism, patriarchy - all these themes indirectly stem from the way our world is organised. I wanted to give a full picture of our reality, if only superficially. The world is diverse, full of detail. If I go to work in the morning, I am affected by a thousand important topics all at once: 'cardboard country' (the bus is late, ['cardboard country'– mocking way of describing a situation of political instability when those in power fail to provide security and a sense of stability to their citizens – translator's note]) global warming (bus farts with exhaust fumes), class differences (I give way to a woman with a child), body (my stomach hurts, I haven't had time to have breakfast). So, what can I do about it? I have to write about ten important topics. And that's only the bus. Since I write sincerely and seriously, I abstain from irony. So, the reviewer sniffs at it. How is it possible, to tremble for the fate of the world in 144 pages. The reviewer is somewhat right. And somewhat not...
You used to write quite a few reviews of poetry books. After all, you made your debut as a poet, which I remember very well, not just as a proof-reader of your collection. I know that you invariably read poetry. I also know that you could put together a second volume from the poems you have. Are you taking any steps in this direction?
I have quite a lot of it saved in many, many files. I even have a title for a poetry book – Psia Trawka ("Dog Meadows"). But unfortunately, putting together a book of poems, despite having many works, is not an easy thing to do. Writing a good collection of poems is as difficult as writing a good novel. And the very difficult issue of publishing, after all, no one does it for a profit, that puts me off a bit. What I had with my debut was that I had a sense of 'must' - I absolutely wanted Wysokie słońce ("High Sun") to be published. I don't have a need for poems right now; maybe when I manage to add a dozen more pieces that I'm happy with, I'll finally put the whole thing together.
Perhaps it's also a matter of your readings, which is more often prose? Apart from Justyna Kulikowska and Michał Krawczyk, who else has recently captivated you in poetry, or at least positively surprised you?
There are certainly a few names like that... Antonina Tosiek and her storytelling - I even wrote a review for 'Polski Stoner'. Very close to my taste, the countryside, but a real one, with Styrofoam and resentment. If 'Stoner', then Patryk Kosenda's Największy na świecie drewniany rollercoaster ("World's Largest Wooden Rollercoaster"), again something very close to me, religion mixed with a cavalcade of words. Something on the borderline between poetry and prose - Maciej Libich's Przepływy ("Flows"), extremely surprising, tranquil pieces. I also enjoyed Wojciech Kopeć's book, the debut of Julek Rosiński. I like the poems of Lukasz Kazmierczak/Łucja Kuttig (especially from the first collection, poems about cooks and the Polytechnic!). I have probably left someone out… By my bedside, I have a volume Imię i znamię ("The Name and the Mark"), right next to Myśliwski's Kamień na kamieniu ("Stone Upon Stone") and Schulz. The latter two are prose, but almost like poetry. Poetry in prose actually.
There is no denying it: you are in constant and very close contact with recent literature, especially Polish literature. Is this also an aftermath of your potential decision to pursue a PhD in this field in the future? Tomasz Cieślak himself invited you in a comment under a post in which you took pride in your defended master's degree.
I don't think I'm intelligent or well-read enough... Maybe one day? This invitation from the professor is of course a great honour, for which I thank him. It's just that when I read how many publications my colleagues in Warsaw and Krakow have, I rub my eyes in amazement and envy - and think to myself that I probably need to stick to writing fiction... But I'm not saying no. For the time being, I am finishing my master's degree in law (topic: Law and legal culture in selected works of Polish literature). As you can see, I'm not going to make a great lawyer...
Interviewer: Rafał Gawin
Translated by Justyna Lowe