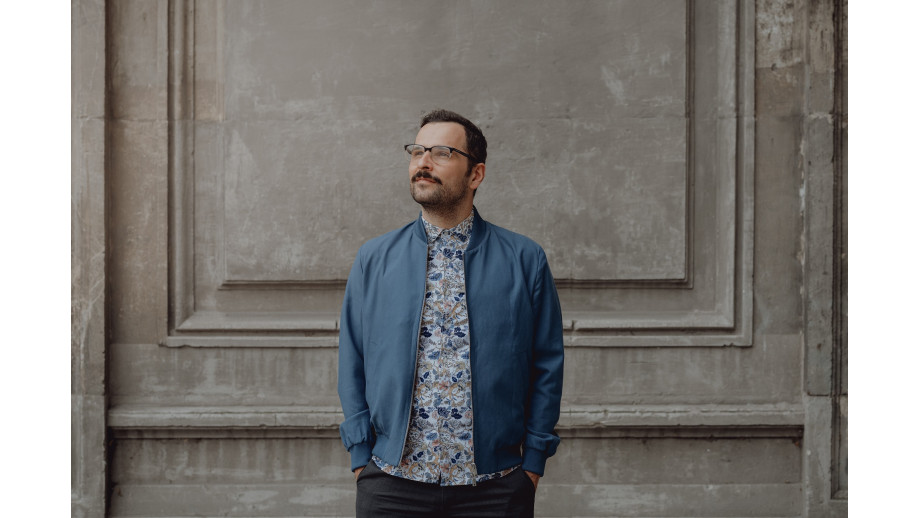 Bedside table #68. Bartosz Sadulski: I remember the Leeds line-up better than the plot of the last book I read
"I tend to mask my inability to engage in verbal displays by either hating on something excessively or praising it. In the same way, with excessive emphasis, I talk about books I haven't read, I'm excellent at it," says prose writer and (now inactive) poet Bartosz Sadulski.
Do you have a bedside table where you put your books to read? If so, what books? If not, how is that possible?
Of course I do. And it's a pig of a table, because it's quite large. By the force of nature, though more by the force of time, it was divided into spheres of influence and sectors, like Berlin after the war. To the north-east is a tall pile of poetry, for although, honestly, I have broken the pen with which I used to write poems, I have no intention of stopping reading them, and these are mainly translations. I do like to read a few lines before going to bed; I feel both intellectually stimulated and sweetly lulled. The top of that pile is currently dominated by Houellebecq and Dickinson, so you can easily imagine my dreams are bawdy.
I didn't know Houellebecq wrote poetry.
This, like all of us resolute melancholics and feisty Nobel laureates, is where he started. I remember that Andrzej Stasiuk once threatened to return to poetry in his old age, and when I conducted my legendary interview with him at the OFF Festival (legendary, as for various reasons it could not see the light of day), he asked me to introduce himself as a poet, which I find completely incomprehensible, because thick books are also written to make people forget that we used to be lyrical.
Right, let's keep charting your bedside table.
Below the zone of influence of poetry, say in Köpenick, within easy reach from bed, there is a small shifting pile of stuff I'm reading at the moment, usually a maximum of two or three titles. At this moment, before my holiday, it is Maks Cegielski's Oko świata ("The Eye of the World") about Istanbul, because that is where I am directing my first holiday steps, and Franzen's The End of the End of the Earth, a perfect bedtime reading, for what could be better than the essayistic ramblings of a lib-ornithologist. Below, Roth's Shop Talk: A Writer and His Colleagues and Their Work, in which it turns out that Philip was quite a good journalist, and Didion's The Year of Magical Thinking, which I will start reading, if Allah wills, when I return.
The American sector, i.e. the south, is, in the middle part, humanist essays, that is, for example, the stuff from the "Domy ze słów" ("Houses of Words") series by the State Publishing Institute PIW, i.e. books that no normal person reads continuously, but an essay or two with an evening pinot noir. Underneath, there are a few titles that I started reading but abandoned for various reasons, but I know I will finish reading them because, for example, I should write about them (I want to apologise here to the lady at the WL publishing house, but I won't write about Binet's Civilisations after all, a terrible disappointment). In the west of this zone, in Steglitz, lies the dust cover of Coetzee's essays on writing. I don't know what it does there.
The north is high mountains, the Misty Mountains divided by the Redhorn Gate, where dust and pneumococci gather their armies in hiding, for what else to expect from the French and British zones. Both sectors are just MISCELLANEOUS THINGS, quite a few short stories there, e.g., Lispector and O'Connor, which I read at random, some things I read with a view to the thematic issues of "Herito" quarterly, but it's dominated by seasonal must-reads that have passed like the yo-yo fad, yet they are still patiently waiting for the touch of warm hands.
How would you describe yourself as a reader?
Capable but lazy.
Do you have periods of time when you don't read but, for example, play games or passionately devour TV series?
Oh God, of course, I've spent more time in my life playing football managers than reading, nothing can bring me back that time, but I regret nothing. I've played the Football Manager 2013 version alone, according to the Steam stats, for 2695 hours. I led a small left-wing club from the outskirts of Madrid, Rayo Vallecano, to the football summits, they named a new stadium after me, but, as Thomas Bernhard wrote, there is silence at the summits, so the fun gets boring every now and then. In moments of existential exhaustion, however, I still reach for Championship Manager 3 from the 2001/2002 season, a version that will turn 20 this year. I could sign my name under the title of a book which also appeared in Polish some time ago, Football Manager Stole My Life: 20 Years of Beautiful Obsession. As I don't smoke or overindulge in alcohol, this is probably my only serious addiction. In one of Palahniuk's books, that talented student of a creative writing course run by a more degenerate version of the late Adam Zagajewski, I think it was in Damned, the characters end up in hell and see there, among other things, a sea of wasted sperm: I hope that after I die, I don't see a sea of wasted minutes playing managers, because I find it insanely relaxing. After completing Rzeszot, I rewarded myself with hours of sessions of 'Red Dead Redemption 2', but this game, unlike the managers, has an end. And at the very beginning of the pandemic, like probably most of the world, I was unable to do anything but watch The Sopranos.
Do you buy books as gifts?
Just like with Mariusz Szczygieł, who gives everyone not only a smile and attention but also, if possible, copies of The Death of the Beautiful Roebucks, there is a book that I always buy when I see it in a second-hand bookshop in order to give it to my kind friends. It is The Pigeon by Patrick Süskind, whom we know only as the author of Perfume and possibly The Double Bass, yet this existential novella about a watchman whose life is in ruins after meeting a pigeon is without doubt one of the best things I've read. I also have to admit that by giving this book as a gift to others, I am trying to redeem myself, as I came into possession of The Pigeon illegally.
How so?
A classic appropriation of property, but let's not go into details, I atoned for this by giving away The Pigeon prodigiously. So yes, I do occasionally buy books as gifts, but more often it's a gift without a special occasion; I see a certain book and think of a particular person. I try not to go to birthday parties, because there are usually people there I don't know, which always fills me with anxiety. I could find myself, for example, in the company of a bishop, a terrorist, or a dentist, which I could not cope with at all and would fall into a permanent stupor.
It's a bit hard to imagine yourself falling into stupor in social settings.
I naturally and freely fall into a stupor whenever I am in the company of more than one person I don't know. I am a classic introvert, but with age, I have acquired certain savvy with which I mask my shyness.
Do you happen to argue about books, in person or online?
Very rarely, mainly because I have limited oratory skills - I simply think by writing rather than by talking; when I start talking, I am mostly lost, and accurate retorts only come to me two years later in the shower. I tend to mask my inability to engage in verbal displays by either hating on something excessively or praising it. In the same way, with excessive emphasis, I talk about books I haven't read, I'm excellent at it. I sometimes talk more animatedly about the books I haven't read than about those I have, because unfortunately, I remember the Leeds line-up from the 2001/2002 season better than the plot of a book I read a week before. And online, I don't argue at all, a complete waste of time.
Paper or electronic?
Definitely paper. I love a book as an object, but I also don't make a fetish out of it, I don't collect books just because of how they look - with a few exceptions, such as the beautiful anthology Kraj rad w poezji polskiej. Muzo pieśni opowiadaj ("The Country Rejoicing in Polish Poetry"), bound in fabric produced at the Central Silk and Decorative Laboratory in Lodz, with illustrations by Andrzej Strumiłło, and stamped "Specimen copy".
I now feel the burning envy of a collector of odd books and books scavenged from library displays.
No, there is nothing to be jealous of, I try not to accumulate things that I know I will never need. Thus, I don't have many curios; I was recently tempted to buy Leonid Brezhnev's memoirs of the period when he was First Secretary of the Zaporizhzhia Regional Committee of the Communist Party of Ukraine and was rebuilding dams, but I preferred to buy myself an ice cream. I have a work e-book reader, on which I often read publications related to the new issues of "Herito", or those that I am not convinced about owning, although by nature I like to own. I have a lot of classics on it (a friend recently told me to download Mointagne's Essays, so I will be catching up), things not available in print, like King Leopold's Ghost, and literature in English because I can look up words easily. These are often things that do not and probably will not exist in Polish, such as Thomas Bernhard in San Salvador, Vollman's books, which thankfully we will have translated this year, or more recently Siri Hustvedt's essays, which were recommended to me by a friend who was looking for a publisher for them (hello!).
I have not heard of Vollman, brief me on him.
Europe Central will be coming out in Polish; I started to read it in English, but I gave up because it contains a lot of military vocabulary and digging through it with a dictionary could probably only be fun for Radek Wiśniewski. I will probably write something about Vollmann, because he is both a fascinating character and an excellent writer.
What kind of reader were you as a child? I am asking here both about books that shaped you and your beloved readings.
Very eager! I started reading very early, and when we had our reading speed tests done when we were 8 or 9 years old, I was reading at the speed of a 13-year-old. I read a lot, maybe I only spent more time playing on the computer, but back then, my older brother still shared a room with me, and he had priority. So, I listened to Michael Jackson from a cassette and read. But I started with comic books, all the Donald Ducks and things like that. My cousin once brought me a load of Batman comics, and it was a dazzling experience. My reading canon in general is quite odd, inconsistent, and a bit peculiar, as I never went through a fascination with Mr Samochodzik and Polish classics, with perhaps a few exceptions, like Sposób na Alcybiadesa ("How to Get Alcibiades"), which I read in one night. I grew up reading American popular literature: I knew all of Grisham back to front, and I remember how my mother and I used to cast actors for his idyllic novel The Painted House, which was eventually filmed by some cable TV company and cast with actors from insurance policy commercials. I took turns reading Harris, Crichton, and the rest of the Amber publishing house crap, but it didn't teach me how to write like them, which I regret, maybe now I would write books with Bill Clinton or at least Waldemar Pawlak. I don't know what those Americans did to my head, I never became an Americanophile, I also stopped reading comics very quickly - maybe they installed in me some software with a knack for the written word, because my weakness for popular and genre literature passed quickly, giving way in high school to Rimbaud, Celine, and me being an existential flop.
Walking around Krakow with a book of poetry under your arm?
Never in my life, even with my own. Although I do dream of having a bench with my own name on it, preferably in the Planty Park, as there is a lady walking around who often pees on these benches while shouting out loud, which is of course fantastic. But I did walk around Wroclaw, during my university years, I walked around with all sorts of strange things; in my first year of library science, I was reading Jacek Gutorow's Niepodległość głosu. Szkice o poezji polskiej po 1968 roku ("Independence of Voice. Notes on Polish Poetry after 1968") in the corridors, which somehow explains why I didn't start a family.
Do you always finish a book you're reading? If not, what is it that can discourage you from reading to the extent that you put a book down?
I try to choose my books carefully enough to finish reading them, and I almost always succeed. I say almost, because this Binet and Civilisations is really the biggest disappointment of the year, although he is, after all, a skilled writer and the subject is fantastic too.
Which is?
Reverse colonisation and the Mayans in Portugal and Spain instead of the triumphs of Columbus and the conquistadors on the other side, but the whole thing bursts at the seams and is both tiresomely serious and superficial. There are also quite a few books that I reach for in search of an excerpt, enlightenment, epiphany. For the last two years, for example, I've kept Pascal's The Pensées ("Thoughts") in the loo, and read them at random in all directions, but I don't think I'm getting any wiser from it.
Do you have any embarrassing literary loves, Coelho under your pillow or Hopscotch in the loo next to Pascal?
I don't think I'm embarrassed by anything; I do read books about football for relaxation, but their level has risen considerably in recent times.
Do you throw books away?
Never, may the hand with which I would once have thrown away a book be chopped off by the people's authorities. Before moving from Wrocław to Krakow with my entire book collection, I sold the worst things I found at the fair - every single one of them, I proved to be a brilliant seller of my own books. I collect books quite carefully, if something doesn't suit my taste at all, I sell it or give it away: after a friend of mine sent me a box of Polish poetry published in probably 2019, most of it ended up in the book exchange cupboard in Nowa Huta's City Hall Park. I am rather the one who picks up discarded books.
Interviewer: Olga Wróbel
Translated by Justyna Lowe