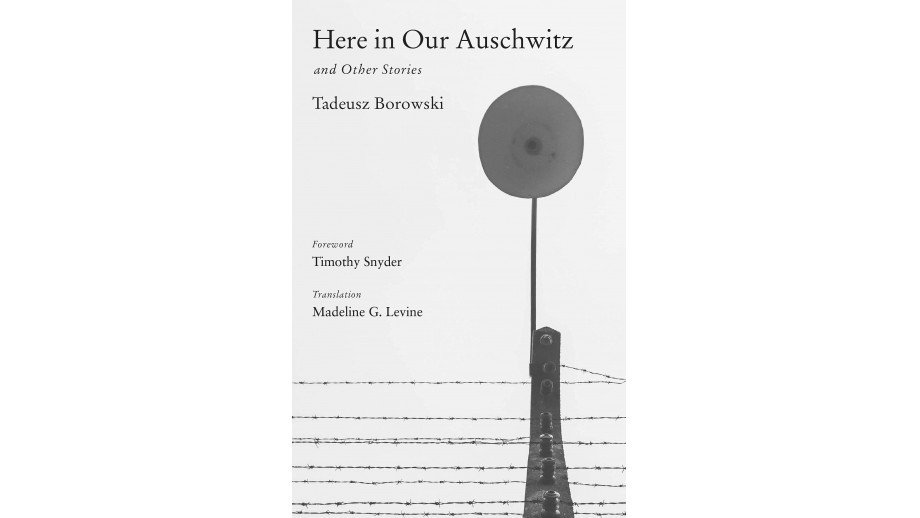 A translation of Borowski nominated for the prestigious American National Translation Award
The translation of Tadeusz Borowski's short stories has been included in the longlist of translations nominated for the prestigious National Translation Award granted by the American Literary Translators Association (ALTA). The author of the translation is Madeline G. Levine, a winner of Found in Translation Award for her translation of Bruno Schulz.
The Longlist of translations nominated in Prose:
Émile Zola, The Assommoir, translated from French by Brian Nelson (Oxford University Press)
Billy Wilder, Billy Wilder on Assignment: Dispatches from Weimar Berlin and Interwar Vienna, translated from German by Shelley Frisch (Princeton University Press)
Mario Vargas Llosa, Harsh Times, translated from Spanish by Adrian Nathan West (Farrar, Straus and Giroux)
Tadeusz Borowski, Here in Our Auschwitz and Other Stories, translated from Polish by Madeline G. Levine (Yale University Press)
Mahsa Mohebali, In Case of Emergency, translated from Persian/Farsi by Mariam Rahmani (The Feminist Press)
Max Lobe, A Long Way from Douala, translated from French by Ros Schwartz (Other Press)
David Grossman, More Than I Love My Life, translated from Hebrew by Jessica Cohen (Jonathan Cape)
Karl Ove Knausgaard, The Morning Star, translated from Norwegian by Martin Aitken (Penguin Press)
Sholom Aleichem, Moshkeleh the Thief: A Rediscovered Novel, translated from Yiddish by Curt Leviant (The Jewish Publication Society, University of Nebraska Press)
Andri Snaer Magnason, On Time and Water, translated from Icelandic by Lytton Smith (Biblioasis / Open Letter Books)
The Tale of Princess Fatima, Warrior Woman: The Arabic Epic of Dhat Al-Himma, translated from Arabic by Melanie Magidow (Penguin Classics)
Liu Xinwu, The Wedding Party, translated from Mandarin by Jeremy Tiang (Amazon Crossing)
The list of seven translations nominated in poetry:
Daniel Lipara, Another Life, translated from Spanish by Robin Myers (Eulalia Books)
Osip Mandelsztam, Black Earth: Selected Poems and Prose, translated from Russian by Peter France (New Directions)
Natalka Bilotserkivets, Eccentric Days of Hope and Sorrow, translated from Ukrainian by Ali Kinsella i Dzvinia Orlowsky (Lost Horse Press)
Najwan Darwish, Exhausted on the Cross, translated from Arabic by Kareem James Abu-Zeid (NYRB Poets)
Charles Baudelaire, The Flowers of Evil, translated from French by Aaron Poochigian (Liveright Publishing Corporation, W. W. Norton & Company)
Dante Alighieri, Purgatorio, translated from Italian by D. M. Black (NYRB Classics)
Adalber Salas Hernández, The Science of Departures, translated from Spanish by Robin Myers (Kenning Editions)
The nominations were announced on 1st September. The ALTA Award is the only award in the United States to be awarded on the basis of a rigorous examination of both the source text and its relation to the finished English work.
This year's judges for poetry are Hélène Cardona, Boris Dralyuk, and Archana Venkatesan, whereas this year's prose judges are Suzanne Jill Levine, Arunava Sinha, and Annie Tucker. The winning translators will receive a $2,500 cash prize each. The winners will be announced on 6 November.
Madeline G. Levine is professor emeritus of Slavic Literatures at the University of North Carolina at Chapel Hill. Her translations include Kobieta z Hamburga i inne prawdziwe historie ("The Woman from Hamburg and Other True Stories") by Hanna Krall, Pamiętnik z powstania warszawskiego ("A Memoir of the Warsaw Uprising") by Miron Białoszewski, Chleb rzucony umarłym ("Bread for the Departed") by Bogdan Wojdowski, Skrawek czasu ("A Scrap of Time") by Ida Fink, which was awarded the 1988 PEN-America Prize for best literary translation, as well as four volumes of prose by Nobel laureate Czeslaw Milosz, including Zaczynając od moich ulic ("Beginning with My Streets: Essays and Recollections") and Abecadło ("Milosz's ABC's"). She received her doctorate at Harvard University and, during her tenure at the University of North Carolina, she taught courses on Russian and Polish literature and engaged in literary responses to the Holocaust, the Soviet Gulag, and the civilian experience of war.
The 2019 winner of the National Translation Award in the Poetry category was Bill Johnston for his translation of Adam Mickiewicz's Pan Tadeusz (published by Archipelago Books).