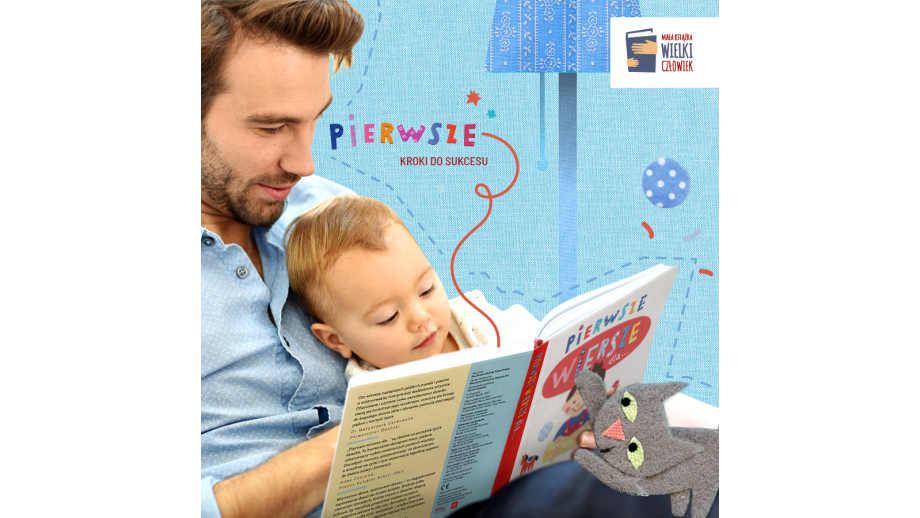 A social campaign by the Polish Book Institute on children's reading to be launched
Are you expecting a child? There is a gift waiting for you! After the success of last year's campaign, already 95% of hospitals in Poland participate in the Bookstart project, within which parents of newborn children receive Readers' Layettes. The book Pierwsze wiersze dla… (First Poems for...) and an information booklet for parents and guardians were distributed to maternity wards all over the country. This time though, not only new parents will be able to get the valuable set.
The Book Institute is launching a new edition of the social campaign "Small Book - Great Man" so as to remind all parents, guardians, and grandparents of the benefits of family reading right from birth. The campaign was supported by… Well, who? Let's keep it secret for the time being... Until the end of the year, television and radio advertisements, internet publications, and posters at bus stops will be encouraging people to read together.
The second edition of the campaign is of a special nature as it was supported by a famous TV couple, who will appear in a TV advertisement as well as at a press conference inaugurating the entire campaign. You will soon be able to read about who will be the face of the campaign and why, as well as impressions from the film set.
Social media activities will be strengthened by the participation of Karolina Banaszak - a popular blogger and Youtuber, and privately a mother of a little rascal. The materials prepared with her participation will be available to follow on the YouTube, Instagram, and Facebook channels of the campaign. The most up-to-date information will also be tweeted regularly.
Research has shown that there are many benefits to reading from birth onwards, ranging from bonding between guardian and child, to the necessary support for the physical and mental development of the child. Children, who have been read to from an early age, acquire self-esteem, develop their learning skills, and cope better with problems in adult life, emphasise psychologists. Fostering reading is one of the main objectives of the Book Institute - it is the projects in which instilling the love for books in children is emphasised that are one of the pillars of the Institute's activity.
Find out more about the campaign here.