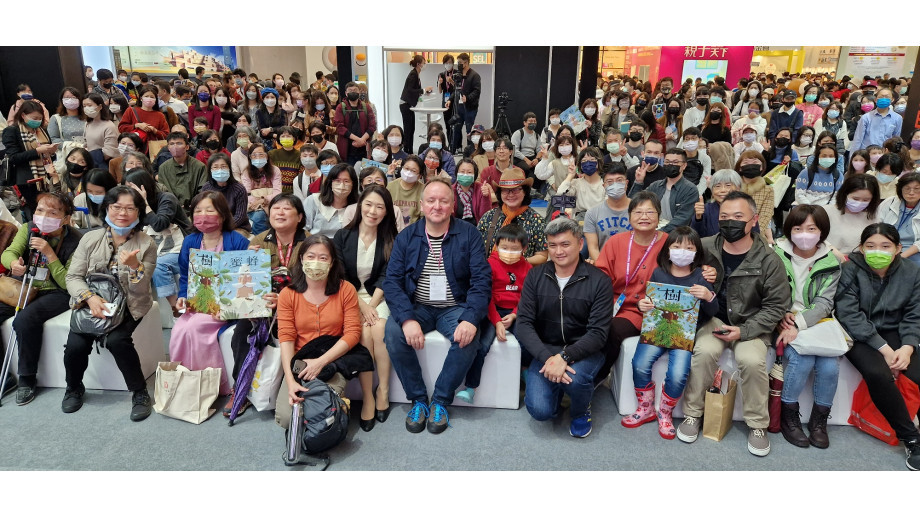 "One can see more from a distance". Piotr Socha after the Taipei International Book Exhibition
The Taipei International Book Exhibition, at which Poland acted as Guest of Honour this year, took place in early February. The echoes of one of Asia's largest book fairs still reverberate. This time, the excellent graphic designer and illustrator Piotr Socha talks about his presence at the fair and the success of his two books published in Taiwan.
Below is Peter Socha's report from Taipei:
It's great that with books you can travel, and I mean travel literally - and travel far. I am fortunate that my books published by the Dwie Siostry publishing house have a number of foreign editions. Pszczoły ("The Book of Bees", published in 2015, translated into thirty-two languages) and Drzewa ("The Book of Trees", published in 2018, translated into twenty-eight languages). The author of the text for both books is Dr Wojciech Grajkowski. The latest, published in 2021, Brud. Cuchnąca historia higieny ("The Book of Dirt: A smelly history of dirt, disease and human hygiene"), done with Monika Utnik-Strugała, has had eleven foreign editions so far. The first two books were published in Taiwan by Global Kids Books, and this probably led to my being invited to participate in a book fair in Taiwan, where Poland was the Guest of Honour.
To be among the authors invited to such an event is a great honour. However, I did not expect to be so warmly welcomed. I spent eleven days in Taiwan, five of which were filled from morning to evening with meetings at the fair and beyond. Never before have so many people attended meetings with me. I signed a few hundred books, and I had to do it quickly because the queues were long. Readers took pictures with me. I have about two hundred of these photos. It was really very enjoyable.
The TIBE book fair is a big event, with around half a million visitors this year. At the fair itself, I had three meetings, including one at the Polish stand. From meeting to meeting, the turnout was increasing.
In addition to the fair, I twice visited a school in the city of Taoyuan, whose students attend art classes and win prestigious prizes at design competitions. The kind of welcome I received there was completely unexpected. Large posters were displayed all over the school announcing a meeting with me. The largest was probably six metres wide. Prior to the meeting, I had the opportunity to meet representatives of local education authorities.
My speech was preceded by four speeches, lasting a total of half an hour. After my speech, a popular Taiwanese writer conducted an interview with me, and, at the end, I was presented with gifts, including a graphic by one of the students - it depicted me surrounded by bees. Several dozen students attended a long meeting with me, probably over three hours long.
I am not writing about this to brag, but to demonstrate how incredibly kind, hospitable, and welcoming Taiwanese people are. Taiwan's culture of kindness is a separate topic. People everywhere were smiling at me. A small thing, but we could learn from them. For Poles, such warmth comes a little harder.
The other day, I had a workshop at the same school during which we drew. The pupils said that they really enjoyed sharing this fun activity together. This was evident. I also had a meeting with art students at the Design Museum, which is currently hosting an exhibition of the best Polish book covers, including mine. There, we also drew together, but the students were definitely more interested in how my books were created.
In addition to this, I gave interviews and visited the largest 24-hour bookshop in Taiwan, where my books were bestsellers during the TIBE fair. In addition to these, I also saw books by Wisława Szymborska, Aleksandra and Daniel Mizielinski, Gosia Herba.
Needless to say, in addition to my duties, I also had a lot of fun exploring Taipei and its surroundings. My publisher invited me for a day trip. My numerous duties did not allow me to get to know the other participants of the Polish team at TIBE, which I obviously regret. I wish I could have attended their meetings.
My sincere thanks to the organisers of our delegation, the Book Institute, the Polish Office in Taipei, and the Adam Mickiewicz Institute for the excellent organisation of my/our stay.
***
Travelling is vital. One can see more from a distance. Together with the excellent illustrator Marianna Oklejak, we represented children's book authors. For years, I collected mainly foreign children's books, but around the time of Poland's accession to the European Union, the children's book market started to develop very rapidly in our country, and, today, I mainly buy Polish books or Polish editions of foreign children's books. Polish children today have a huge choice of great books by Polish authors. We are standing strong in this field.
Illustrating children's books has become fashionable among young graphic designers. I think the success of Aleksandra and Daniel Mizieliński's book Mapy ("Maps"), which has sold more than 3 million copies worldwide, played a big part in this.