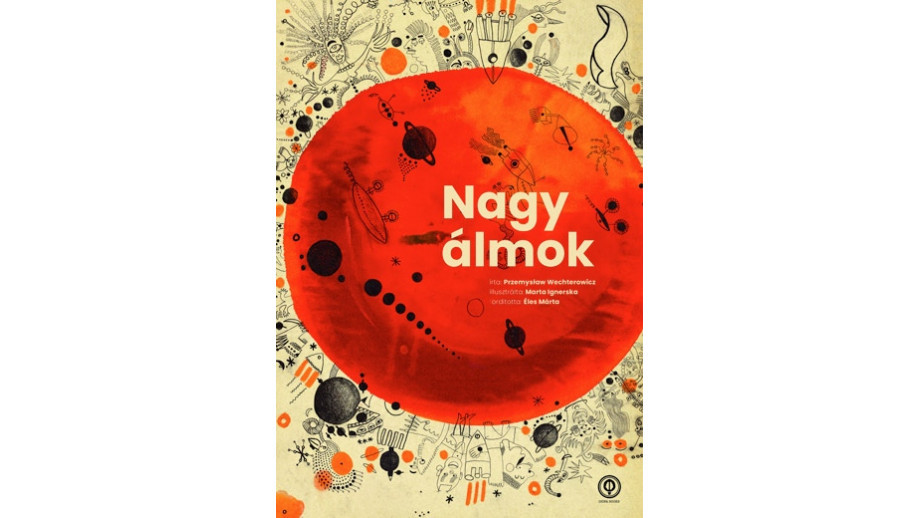 "Wielkie marzenia" by Wechterowicz and Ignerska in Hungarian with support from the Book Institute
A translation of the children's book Wielkie marzenia ("Great Dreams") by Przemysław Wechterowicz and Marta Ignerska has been published in Hungary. The publication of the book translated by Márta Éles was supported by the Book Institute under the ©POLAND Translation Programme.
Nagy álmok, as reads the Hungarian translation of the book, was published by the Diófa Books publishing house in Hungary.
Published in a large format, this book about big dreams consists of a witty and imaginative text by Przemysław Wechterowicz and - most importantly - excellent illustrations by Marta Ignerska. In Great Dreams, it is the illustrations that tell most of the stories that bind the text together. What are they about? About, among others, The Carpet, who would very much like to fly to Mars, or The Fire, who dreams of becoming a fireman...
Przemysław Wechterowicz is well-known children's book author on the Polish market. He has written more than forty books for children in his career. He is widely translated into foreign languages - his works have already appeared in more than 20 languages. His best-known works include Na zawsze przyjaciele ("When Little Owl Met Little Rabbit", with Emilia Dziubak), Być jak tygrys ("The Secret Life of a Tiger", with Emilia Dziubak), Gwiazdka z nieba ("The Lost Star", with Marcin Minor), and Uśmiech dla żabki ("A Smile for Little Frog", with Emilia Dziubak).
Marta Ignerska is an artist, designer, illustrator, cartoonist, graphic designer, and book designer. She has created several books, including Wszystko gra ("In Tune" with Anna Czerwińska-Rydel), Świat Lema ("The World of Lem", in which she illustrated quotes from Lem's most important works) and Babcia robi na drutach ("Granny Knits", with Uri Orlev).