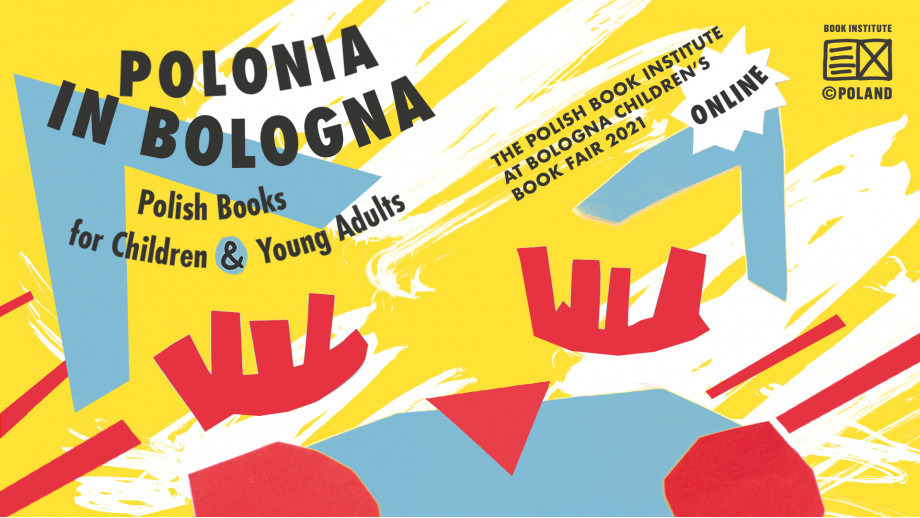 "Polonia in Bologna" – the online events of the Bologna Children's Book Fair 2021
The Bologna International Children's Book Fair started on Monday. Due to the pandemic, the event organisers decided to prepare only a virtual space for exhibitors. On this occasion, the Book Institute has prepared a special catalogue 'Polish Books for Children & Young Adults Awarded in 2020', as well as four events to which we would like to invite all interested parties from Poland and abroad.
A presentation of the Polish social campaign "Small Book – Great Man" was available to watch on Monday. Gabriela Dul, one of the originators, organisers, and coordinators of the campaign, talks about the Book Institute's Bookstart campaign.
On Tuesday (15th June), we invite you to the world of the master - Józef Wilkoń. In a conversation with an excellent book designer and illustrator Grażka Lange, he reveals his magical world of illustrations to the audience. In addition to a thorough discussion and evaluation of the condition of Polish children's books, we find out where the international success of Polish illustrators comes from, and we are also able to experience a short sentimental journey around the Bologna fair.
On Wednesday (16th June), we invite you to a webinar by Dr Anita Wincencjusz-Patyna (Eugeniusz Geppert Academy of Fine Arts in Wrocław). An expert on the Polish publishing market, a professional in the field of Polish illustration, and a children's book enthusiast talks about the trends currently dominating in Polish illustration. Wincencjusz-Patyna also shows the most interesting books by Polish illustrators and authors from the last few years.
At the end of the online Bologna Fair (17 June), we invite you to an exciting debate among specialists in bookstart programmes. The discussion will be led by UK-based subject matter expert Peter Jenkins of BookTrust UK. Emmi Jäkkö from the Finnish Reading Center, Izumi Sato from Bookstart Japan, and Krzysztof Piskorski from the Book Institute will also discuss and exchange experiences and opinions on the subject.
All events begin at 11am and will be viewable on the Books From Poland YouTube channel.
The catalogue "Polish Books for Children & Young Adults Awarded in 2020" was prepared by the Book Institute with foreign publishers in mind, whose interest in Polish literature for children and young people is growing year by year. It presents 28 titles which have been recognised in terms of their literary and illustrative qualities by juries of the most important competitions in Poland and abroad. They are arranged according to four age categories - 3, 6, 9, and 13 years old. All books included in the catalogue have been created by excellent Polish authors and illustrators.
The catalogue can be downloaded here.
We look forward to seeing you!