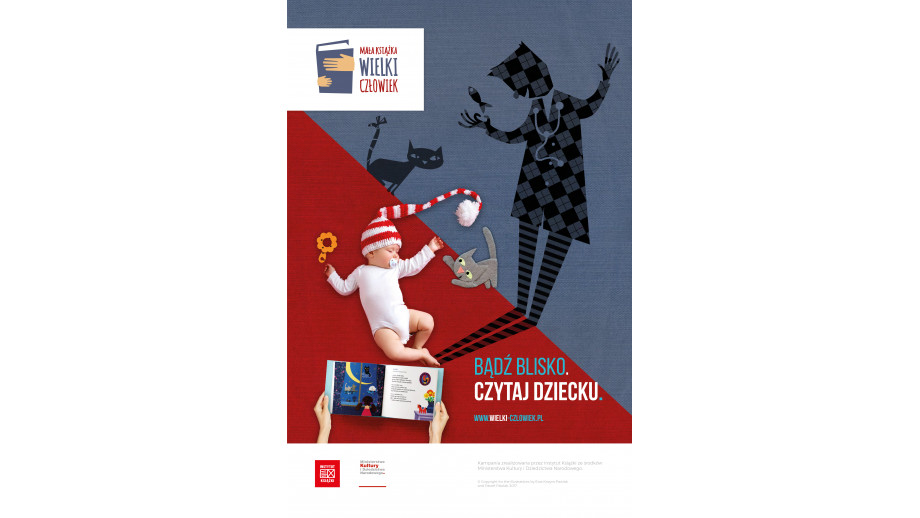 The social campaign "Small Book – Great Man" reminds us of the benefits of reading together in a family from the first months of a child's life. It was devised in connection with a nationwide campaign, as part of which young parents will receive unique Reading Layettes in maternity wards.
We believe that "reading" starts from the cradle, before a child even begins to put letters together themselves. Well-chosen books develop their mind and emotions, shape linguistic competence, root them in culture, and stimulate their imagination.
In 2017, as part of a pilot campaign initiated in December, 100,000 newborn children received Reading Layettes in 360 hospitals all over Poland, and by mid-2019, as many as 360,000 layettes will have been distributed. The Book Institute's campaign is joined by the hospitals which have given their consent and willingness to distribute Reading Layettes free of charge on their wards.
***
The pilot project for three-year-olds, implemented within the framework of the nationwide campaign "Small Book - Great Man", started in September 2018. The aim of the campaign is to encourage parents to visit libraries and read daily with their children.
Every three-year-old who comes to a library participating in the project will receive a Reading Layette as a gift, in which they can find a book Pierwsze wiersze dla... ("First Poems For…") as well as a Little Reader's Card. For each visit to the library resulting in borrowing at least one book from the children's book collection, the Little Reader will receive a sticker, and, after having collected ten of them, they will be honoured with a personal certificate confirming their reading interests. Parents will also find something for themselves in the layette: Książką połączeni, czyli o roli czytania w życiu dziecka ("Connected by a Book: the Role of Reading in a Child's Life") which is a handbook reminding parents of the benefits of reading and suggesting where to draw new reading inspiration from. Thanks to the campaign, a child will get to know an important place on the childhood reading map (a library) and will become a full participant of a cultural life.