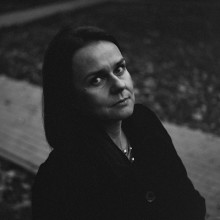 Julia Fiedorczuk
Born in 1975, Julia Fiedorczuk is a poet and translator. She holds an academic post at the Institute of English Studies at Warsaw University. Her first poetry collection Listopad nad Narwią (November by the Narew River) was awarded the prize of the Polish Association of Book Publishers; her poems published in the Austrian literary journal manuskripte in 2005 received the Hubert Burda Award.
Julia Fiedorczuk's oeuvre offers an essentially non-anthropocentric outlook on the world. A distinctive feature are ecofeminist influences, enriched with the post-modern reading of the Romantic philosophy ever since the publication of Tlen (Oxygen). Listopad nad Narwią presents the vision of the world dominated by fish imagery – standing for spontaneous intuitive wisdom – and the motifs of travelling, longing for and bonding with one's beloved as well as all living creatures. In the books that follow, the author has gone beyond the limits of the world as we know it and wandered into spacescapes and parallel universes both on macro- and micro-scales. For instance, Tlen conjures up the "great Soul of the World"; cosmic explosions; gigantic celestial objects as well as compost microorganisms; neutrinos and hemoglobin that distributes life-giving oxygen.

In this way, Fiedorczuk's poems are a voice in the discussion on the possible correlations between art and science, a new sensibility and sensuality developed to adjust to the post-technological world. The poet is also interested in the potential of the human mind and body as seen from many different perspectives and points of time. She ascribes to the poetic philosophy started by Bolesław Leśmian and continued by Miron Białoszewski and Krystyna Miłobędzka, the artists who dwell on the blurred boundary between the human and the non-human. Like her predecessors, Fiedorczuk can be said to record the nascent sensibility – a view on the post-humanist world.
The short story collection Poranek Marii… (Maria's Morning) and the novel Biała Ofelia (White Ophelia) are both concerned with women's stories which – though consistently set within a specific cultural and political context – can be read as extended metaphors of alienation and otherness. With her dreamlike, intricate poems written in sensual, evocative language, Fiedorczuk proves that those who have empathy with all living creatures can be very skilful stereotype busters and critics of human society.
BIBLIOGRAPHY
Poetry:
Listopad nad Narwią, Legnica: Biuro Literackie Port Legnica, 2000.
Bio, Wrocław: Biuro Literackie, 2004.
Planeta rzeczy zagubionych, Wrocław: Biuro Literackie, 2006.
Tlen, Wrocław: Biuro Literackie, 2009.
tuż-tuż, Wrocław: Biuro Literackie, 2012.
Prose:
Poranek Marii i inne opowiadania, Wrocław: Biuro Literackie, 2010.
Biała Ofelia, Wrocław: Biuro Literackie, 2011.
Nieważkość, Warszawa: Marginesy, 2015
Bliskie kraje, Warszawa: Marginesy, 2016.
Return