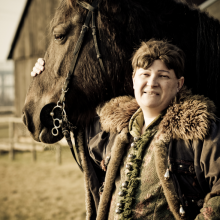 Jacek Komuda
born in Warsaw in 1972. Graduate of History at the University of Warsaw. Prose writer, publicist, co-author of computer and board games' scripts. He contributed to the magazines "Gamestar", "Click!", "Komputer Świat i Gry", and "Magia i Miecz". Currently, he writes feature articles in a weekly "Do Rzeczy".
He began with short literary forms: he made his debut in 1991 on the pages of "Nowa Fantastyka" with a short story Czarna cytadela (Black Citadel); his subsequent stories were also published in the magazines "Voyager. Almanach Grozy i Fantastyki", "Złoty Smok", and "Fenix". In 1999, his first book was published, a collection of short stories Opowieści z Dzikich Pól (The Tales form Wild Fields). In 2009, he won the Leonid Teliga Award for his novel Galeony wojny (Galleons of War); in the same year, he was nominated for the Jerzy Żuławski Literary Award for his book Diabeł Łańcucki (Łańcut Devil).
The author is associated with the fantasy genre, yet his prose focuses on historical figures and events, mainly from the period of The Polish–Lithuanian Commonwealth, located mostly in its east-south areas, rich in dense, dark forests, mysterious ruins of manors and fortresses, and tombs (Komuda's works were defined as 'Eastern borderland fantasy' by Paweł Dunin-Wąsowicz).
Fantasy in the works by the author of Samozwaniec (Pretender) has a fairy tale, folk undertone: it is based on beliefs (devils, including Boruta, the Polish devil-nobleman, phantoms, strigas, wraiths), sometimes it is also oneiric (prophetic visions found in the heroes' dreams). As the writer said himself in one of his interviews, 'a certain dose of fantasy must be included in the storylines of the 17th century - in order to show the psyche and morality of the people who lived then' (interview on the herbowi.pl website). Jacek Komuda takes up a discussion with Henryk Sienkiewicz and the way he presented the reality of the Polish-Lithuanian Commonwealth; although he also refers to the Sarmatian myth, he does not idealise it, depicting the world of the Polish nobility as a field of brutal games, businesses, and bibulous feasts, often ending in bloodshed.
Komuda's protagonist is an outlaw, brawler, swashbuckler, for whom honour is what counts the most, he is not deprived of noble instinct and human feelings, though. An excellent swordsman and rider, cunning, often hired for money to perform tasks that no one else wants to undertake, faithful to his ideals and values, proud of his origin and, in his own way, devoted to the national cause; however, above all, it is a man who is free and respectful of freedom. He is a restless spirit, seeking new challenges, enforcing the law, though standing somehow outside of it. The embodiment of these qualities is, Jack Dydyński, who gets hired by noblemen for frays and settling scores, 'Jack above all Jacks', a historical figure, the hero of a large part of Komuda's books.
This pattern of an exile and an adventurer is more or less followed by the protagonists of Komuda's other novels and stories, the themes of which diverge from Sarmatian times: Imię bestii [The Name of the Beast] (2005) and Herezjarcha [Heresiarch] (2008, the hero of both volumes is François Villon), pirate-themed Galeony wojny [Galleons of war] (vol. 1 2007, vol. 2 2008), Czarna bandera [Black Flag] (2008), and those happening in the 20th century: Ostatni honorowy [Last Honourable] (2015) and Hubal (2016).
Komuda freely combines various literary genres: fantasy, horror novel, historical, adventure, nobleman's tale, fairy tale, uses legends and tales, weaves archaisms into the modern language, thus combining facts based on historical documents with a writer's imagination. In his work, heroic heroes of Polish history become people with weaknesses and faults, and the mythical Eastern Borderlands, associated today with the past tradition of the Polish court and parochialism (in the sense of minor nobility) becomes a place of bloody duels and manifestations of supernatural powers and unharnessed forces of nature.
BIBLIOGRAPHY:
Short stories:
Opowieści z Dzikich Pól, Wydawnictwo Alfa 1999.
Opowieści z Dzikich Pól, modified edition, Fabryka Słów 2004.
Imię bestii, Fabryka Słów 2005.
Czarna szabla, Fabryka Słów 2007.
Czarna bandera, Fabryka Słów 2008.
Herezjarcha, Fabryka Słów 2008.
Zborowski, Fabryka Słów 2012.
Novels:
Wilcze gniazdo, Fabryka Słów 2002.
Bohun, Fabryka Słów 2006.
Diabeł Łańcucki, Fabryka Słów 2007.
Galeony wojny, v. 1, Fabryka Słów 2007.
Galeony wojny, v. 2, Fabryka Słów 2008.
Samozwaniec, v. 1, Fabryka Słów 2009.
Samozwaniec, v. 2, Fabryka Słów 2010.
Banita, Fabryka Słów 2010.
Krzyżacka zawierucha, Fabryka Słów 2010.
Samozwaniec, v. 3, Fabryka Słów 2011.
Samozwaniec, v. 4, Fabryka Słów 2013.
Ostatni honorowy, Fabryka Słów 2015.
Hubal, Fabryka Słów 2016
Other
Tak daleko od nieba, a short story in the anthology Robimy rewolucję, Prószyński i S-ka, 2000.
36 pięter w dół, a short story in the anthology Demony, Fabryka Słów, 2004.
Warchoły i pijanice, popular science book, Fabryka Słów 2004.
Wilczyca, a short story in the anthology Niech żyje Polska hura!, t. 1, Fabryka Słów, 2006
TRANSLATIONS
Ukrainian:
Czarna Nowina, a short story in the Ukrainian anthology Stranstwije Triech Cariej, 2016.
Herezjarcha, a short story in the Ukrainian anthology Wiek Wołkow, 2017.
Return