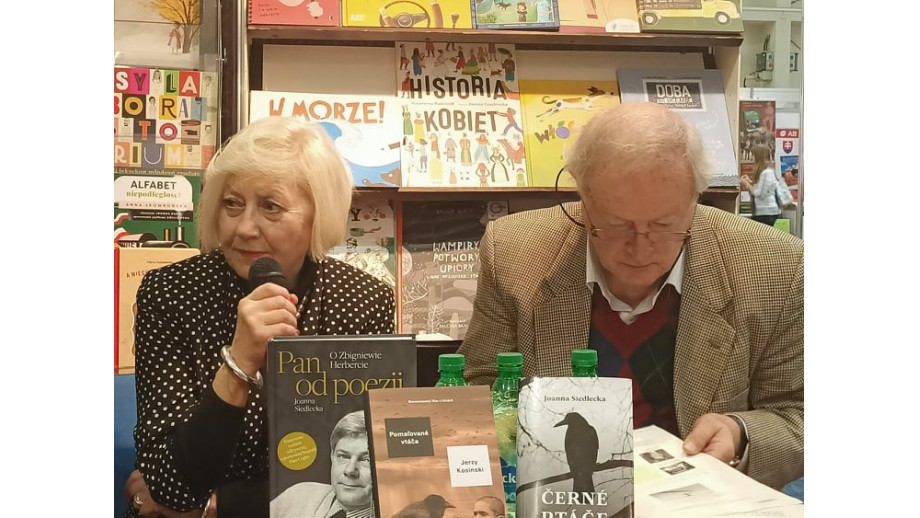 The International Book Fair "Bibliotéka" in Bratislava has come to an end [report and photos]
The Book Institute together with the Polish Institute in Bratislava ran a Polish stand in the Incheba Expo Congress Centre for the four days of the fair (7th – 10th November). At the stand were showcased new publications from Poland, books for children and the youth awarded in various competitions in recent years, books by Polish authors in Slovak published thanks to the support of the Translation Programme ©Poland, including books by Nobel Prize winner Olga Tokarczuk 2018. The stand was visited by readers (many with children) as well as publishers wishing to develop or begin cooperation with the Book Institute.
The Book Institute invited two authors to the capital of Slovakia: Joanna Siedlecka and Michalina Rolnik. Joanna Siedlecka talked to Slovak readers about reportage and her book Czarny ptasior ("The Ugly Black Bird", the Czech edition of the book entitled Černé ptáče was published in the autumn of this year with the support of the Book Institute), demystifying Jerzy Kosiński's life during the occupation. The meeting attracted a large group of listeners. Recently, a film based on Kosiński's novel has been screened in Slovak cinemas.
Michalina Rolnik, the author of the book Zakątki, czyli kto tu mieszka? ("Corners of the World: Who Lives Here?"), the Slovak language version of which was recently published by 82 Book & Design Shop under the title Domčeky sveta (also supported by the Translation Programme ©Poland), conducted workshops for children: for Slovak children in one of the Bratislava kindergartens and for children from Polish-Slovak families in the Polish Institute. Rolnik also presented her artistic achievements to the students of a secondary art school as part of the "master class".
Moreover, a meeting with translators of Polish literature into the Slovak language took place. Jakub Pacześniak and Katarzyna Humeniuk from the Book Institute presented the Institute's programme offering to the audience – the Translation Programme, Samples, Translators' Collegium, and Transatlantyk Award. They also presented a review of new publications.
This year's honorary guest of the fair was Hungary.
We invite you to watch the photoreport:
Gallery