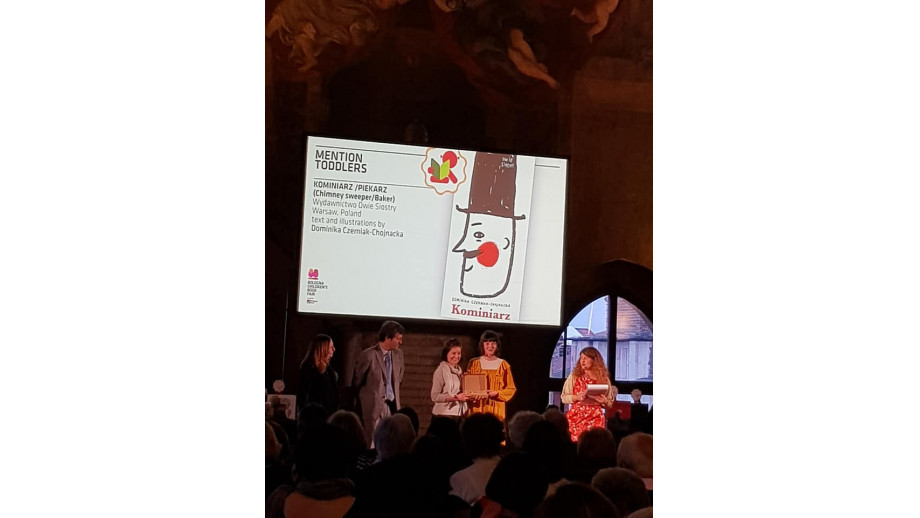 The great success of Dominika Czerniak-Chojnacka: "Kominiarz/Piekarz" with the Bologna Ragazzi Award
The book Kominiarz/Piekarz ("Chimney Sweep/Baker") with text and illustrations by Dominika Czerniak-Chojnacka received the special Bologna Ragazzi Award in the category of books for the youngest. This is a great success for the author and for the whole of the Polish children's book sector - the Bologna Ragazzi Award is the most prestigious industry award in the world in this area of the literary market.
The award ceremony, held in the medieval Palazzo d'Accursio in Piazza Maggiore in Bologna, brought together industry representatives from all over the world.
"Using the graphic stratagem of contrasting opposites, the book illustrates two parallel stories that meet in the middle. The everyday gestures of grownups are explained through the lives of two brothers with very different jobs. The illustration has a refined simplicity. The use of black and white underlines the differences in the two occupations, while the addition of red creates a highly effective visual impact. Dynamic and implicitly musical, the sequence of images is particularly effective, stimulating the young child's aesthetic and emotional senses," - the jury justified their verdict.
The Bologna Ragazzi Award is the most prestigious international award for children's and youth books, comparable to the Oscars. It is awarded to publishers by the international Bologna Children's Book Fair for the most interesting book for children and young people in terms of their graphic and editorial qualities.
Every year, the award is presented in three permanent categories (Fiction, Non Fiction, and Opera Prima - for debuting authors) and one or two special categories. This year's special category was TODDLER - books for children up to 3 years old. Publishers from all over the world could have submitted titles published within the last 5 years.
As announced by the organisers, among about 300 applications, it was France and, immediately after it, Poland that stood out in terms of quality and quantity.