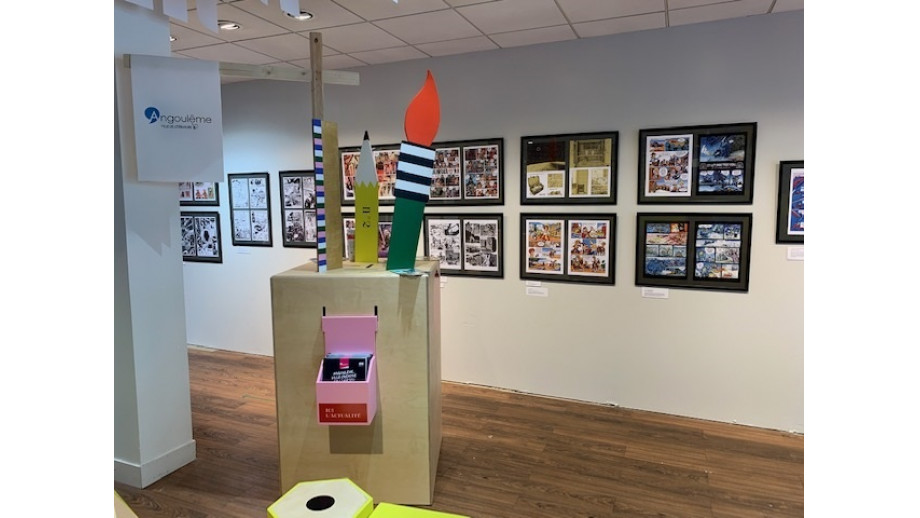 The Book Institute at the 49th Angoulême International Comics Festival [report and photos]
The 49th Angoulême International Comics Festival, the second largest comics festival in Europe, which has been organised since 1974, began last Thursday. The Book Institute is attending the event for the second time.
This time the Book Institute prepared two stands. The first one was located in the International Rights Market (MID) zone, where, in addition to numerous publishers, there were also representatives of Finland, Italy, Denmark, Spain, Canada, and Taiwan, which also organised a special exhibition of works by its artists. It was a place available only for professionals to meet and discuss the purchase of rights.
For the first time, our stand was also located in 'Le Nouveau Monde' ("The New World"), the public pavilion - the second largest at the entire event, where independent publishers showcased their works. At the stand, you could meet numerous Polish artists who presented their works. Among them were Przemysław Truściński, Marcin Podolec, Rafał Szłapa, Maria Rostocka, Joanna Karpowicz, Berenika Kołomycka, Bartosz Sztybor, Piotr Nowacki, Wojciech Stefaniec, and Marek Turek. Both stands were set up in cooperation with the Polish Comics Association.
The festival was also accompanied by an exhibition of Polish comics (from classic to contemporary) organised by the Biuro Wystaw Artystycznych ("Artistic Exhibitions Office") in Jelenia Góra with the support of the Ministry of Culture and National Heritage. It featured, for instance, works from the albums promoted by the Book Institute in their catalogues "New Books from Poland", including Niezwyciężony ("The Invincible") by Rafał Mikołajczak and Andzia by Piotr Mańkowski and Przemysław Truściński.
The stand of French publisher Éditions FLBLB hosted Maria Rostocka with her comic strip The End of July, which was included in the official competition selection of the festival (all works from the official competition selection can be found here.)
This year, there were many Ukrainian touches, such as displays of renowned artists (including Lewis Trondheim, the creator of the festival mascot, in front of the train station in Angoulême), as well as a special website where works by various artists referring to the situation in Ukraine are published.
In addition, Angoulême also hosted an exhibition dedicated to René Goscinny as a scriptwriter and author of, among other titles, Le Petit Nicolas, Asterix, and Lucky Luke.
As of 2019, Angoulême is a UNESCO City of Literature.
The festival ended on Sunday.
***
The event schedule can be found at this link.
Gallery