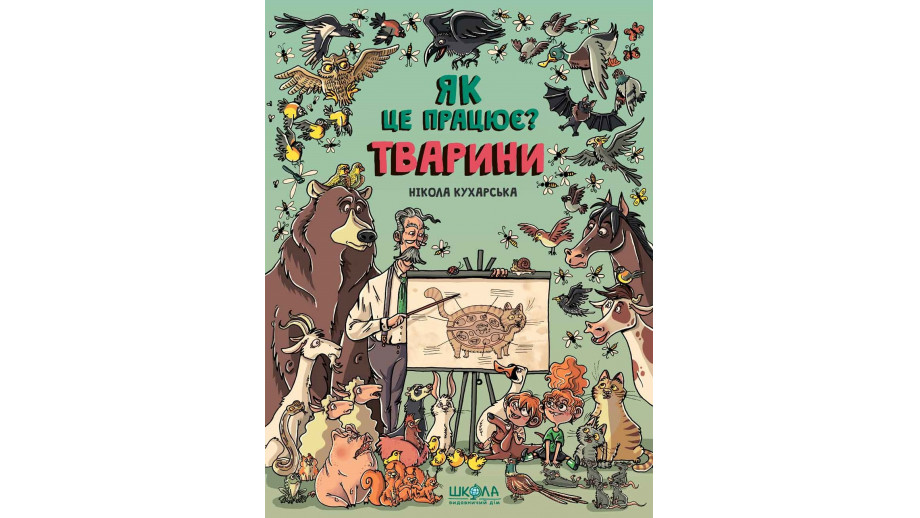 "Jak to działa? Zwierzęta" by Nikola Kucharska in Ukraine with the support of the Polish Book Institute
In June, the book Jak to działa? Zwierzęta (How Does It Work? Animals) translated by Iryna Tuchapska was published. The publication was supported by the Book Institute as part of the ©POLAND Translation Programme.
Тварини. Як це працює?, which is the title of the Ukrainian edition of the book, was published by the Szkoła Widawniczij Dim publishing house in Kharkiv.
"Jak to działa? Zwierzęta" by Nikola Kucharska, a graphic designer, illustrator, and children's book designer, is a story about Klara, who loves animals and would like to know everything about them. In the future, she intends to become a biologist or a veterinary surgeon, or a zootechnician, or a forester, or an animal psychologist, or a pet sitter ... It's hard to decide. For now, she spends every free moment gathering information. She is helped by her grandfather, who patiently answers her questions using funny drawings. Why do dogs leave wet paw prints? Why do pigs wallow in the mud? Why is a rat able to jump from a great height and nothing is wrong with it after? Why do rabbits repeatedly move their noses? Why are parrots so noisy? Can a frog hear even though it has no ears? Why do horses sleep so short? Why do bears stand on two legs? Why do ducks have such weird beaks? What makes a squirrel jump so well and nimbly? Why do does roll their ears?
Large format, detailed illustrations, education combined with fun and humour are just some of the advantages of this extraordinary book about various animals: pets, rural, park, and forest.